Outreach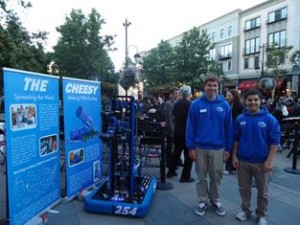 Team 254 is very fortunate to posses certain resources not available to other teams. Because of this, our team is devoted to spreading our resources to other teams in the form of outreach.
Team 254 has started and mentored many teams throughout the West Coast of the United States and Israel. As early as the first few years of the decade, members from Team 254 traveled to Hawaii and Alaska to spread the message of FIRST to the farthest corners of the country. Team 254 was also involved in the creation of the Western Regional Robotics Forum (WRRF), which provides services to many northern California teams and hosts the CalGames Off-Season Competition each year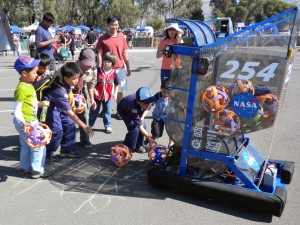 Team 254 also mentors many FRC teams, both locally and over a distance. Furthermore, Team 254 mentors many First Lego League (FLL) and VEX Robotics Competition (VRC) teams throughout the San Francisco Bay Area.
Besides work with individual teams, Team 254 has a 80% size practice field which we open up to other teams regularly. Besides an annual practice weekend and scrimmage on the last weekend of the build season, Team 254 is willing to work with any team so that they can come in when it fits their schedule.
Team 254′s extensive mentoring throughout the years forms an integral part of its team history and we are proud to support many teams throughout the West Coast and elsewhere.
Collaboration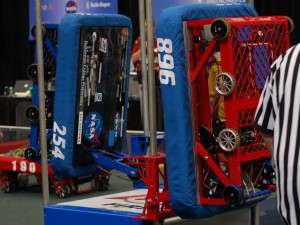 Collaboration can be defined as "an intellectual endeavor that is creative in nature – by sharing knowledge, learning and building consensus." Collaboration has been an important part of NASA Ames Robotics Team 254′s rich history. Since 2004, Team 254 has collaborated with a number of teams.
Team 254's Past Collaborations
2004 – Team 60
2005 – Team 22
2011-2012 – Team 1868
To Team 254, collaboration means pooling our resources with another team to optimize development of everyone involved. From 2004 to 2010, we worked together with other teams to build pairs of identical robots. This allows each team to work to its strengths and receive assistance form the other team when needed. Doing so fills the gaps in each team's expertise and capability.
In industry, different business divisions work on different aspects of a common project to achieve a singular goal. By doing business with another team, students gain real-world experience and communication skills.
Besides inter-team communication, students on Team 254 efficiently communicate with mentors. The collaboration of students and Industry Mentors forms a team that is both competitive and successful . Furthermore, in working directly with mentors, the students promptly begin to learn valuable life, business and engineering skills.