Shockwave
Overview
In Summer 2010, Team 254 decided to build a T-Shirt Shooting Robot to be used for promotional events. After two months of hard work, our robot "Shockwave" debuted at a spirit rally at our school, Bellarmine College Prep in San Jose. The robot was received very well and was loved by the students at the rally.
Team 254 uses Shockwave to promote the team and its sponsors. We bring the cannon to team and school events as well as sponsor events.
Detailed information about the design and build process as well as the cannon's technical specifications can be found below.
Features
Ten Barrel Revolver/Gatling Action
Automatic Barrel Indexing
Motorized Adjustable Pitch – Horizontal to +60 degrees
Adjustable Range Control Via Electronic Solenoid Valve
Six-Wheel Drive, Off-Road Capable Chassis
Wireless Control
Capable of launching 3+ T-Shirts per second
Also Capable of launching racquetballs or hacky sacks
Quick Facts
Name

Shockwave

Speed

3 Shirts per Second

Range

150+ Yards (Adjustable)

Capacity

200+ Shots per Tank

Drive Speed

12+ Feet per Second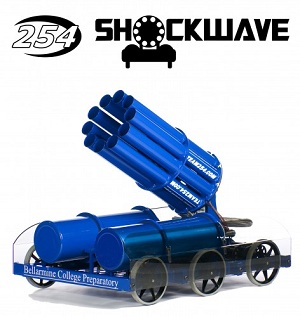 Booking
Team 254 is willing and able to bring our T-Shirt cannon to many events, including but not limited to sporting events, spirit rallies & community events.
The T-Shirt Cannon can be branded to meet the promotional requirements of any sponsor.
To request to have the T-Shirt Cannon appear at your event, please contact our Outreach & PR Director, Harshil Ahuja, at [email protected].
General
Dimensions: 28″ Wide, 38″ Long, 18″ Tall
Weight: 160 Pounds
Top Speed: 12+ Feet Per Second
Capacity: 200+ Shots per Tank
Projectile Range: 150+ Yards
Mechanical
Qty 10 – 2.5″ OD, 2.375″ ID Barrels x 24″ Long
Globe Motor Barrel Revolver Mechanism
Van Door Motor Pitch Adjustment
Pneumatic Cylinder Indexing/Lock
Gas Spring Assisted Pitch
High Pressure SCUBA Tank Reservoir at ~3300 psi
Low Pressure Regulated SCUBA Tank Accumulator at ~120 psi
1″ NPT MAC Solenoid Valve at ~16 cV Flow Capacity with 23 ms Response Time
Norgren Low Pressure Regulator for Cylinder Indexing
H2Oddysey Tank Mounted SCUBA Regulator
Electrical
Power Source: 12 Volt, 17 AH SLA MK Motorcycle Battery
Controller: VEX PIC Micro-controller with VEXNet
Wireless Protocol: 802.11 g Wi-Fi @ 2.4 ghz
VEX Pro Victor Speed Controllers
VEX Pro Spike Relay Modules
12 Volt MAC Solenoid Valve for T-Shirt Launching
12 Volt Rexroth Solenoid Valve for Cylinder Indexing
Note: We do not share any of our CAD files for Shockwave.