1999 FRC Season – Double Trouble
Team 254 had an all-star rookie year. The team went to our local Silcon Valley Regional and won despite fierce comptition from valley veterans and our sister team, the 252 Bay Bombers (since discontinued). After coming out with a bang, the team traveled to the FIRST Championship and won a coveted Judge's Award.
Double Trouble – The Challenge
Double Trouble was the 1999 game for the FIRST Robotics Competition. The playing field is a carpeted, rectangular area. Alliances score points by positioning "floppies," their robots, and a "puck" on the playing field. "Floppies" are light-weight, pillow-like objects with Velcro material located in its centre and around its perimeter. The "puck" is a short, octagonal platform that rolls freely on castor wheels. Around the perimeter of the field are four stations for human players, who may throw floppies to each other or onto the playing field. Two additional areas around the field are for the human players who control the robots. At the start of each match, each human player station contains three of the alliance's floppies. Four floppies per alliance are located on the playing field. The floppies are color-coded to identify alliance ownership. More Information can be found on Wikipedia .
Cartman – The Robot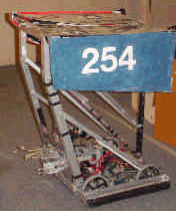 Quick Facts
Name

Cartman

Status

Disassembled

Weight

Unknown

Size

26″ x 30″ x 40″
Competition History
Silicon Valley Regional

Champion, Rookie-All-Star, Leadership & Control Award, Best Offensive Strategy Award
FIRST Championship Judge's Award
Robot Abilities
Robot can lift approximately 8-10 floppies into scoring position.
Cartman can latch onto the puck in order to lift itself off of the ground.
Cartman can also play effective defense.