2000 FRC Season – Co-Opertition FIRST
Team 254 had a solid second season in 2000, winning our home regional once again. The team also traveled for competition for the first time in its history, venturing to Texas to win the Lone Star Regional. After the season concluded, our robot Rocky won two off-season events.
Co-Opertition FIRST – The Challenge
Co-Opertition FIRST was the 2000 game for the FIRST Robotics Competition. The playing field was a carpeted, rectangular area with two 6′ tall trough-style goals located midfield, one for each alliance. Between the goals was an 8′ wide ramp with a 5′ tall bar, which robots hung on to score points. At the start of each match, each alliance station contains seven yellow balls and one black ball. Fifteen yellow balls and two black balls are located at the far end of the playing field. Alliances receive one point for each yellow ball and five points for each black ball in their goal, and not in contact with their robot. Robots that were completely on the ramp each earned five points for their alliance. A robot hanging from the horizontal bar connecting the two goals earned ten points for its alliance. More Information can be found on Wikipedia .
Rocky – The Robot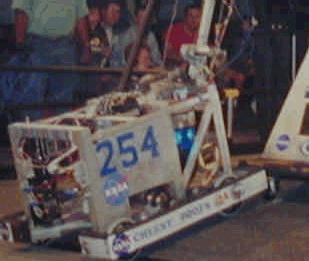 Quick Facts
Name

Rocky

Status

Undead

Weight

Unknown

Size

36″ x 30″ x 28″
Competition History
Silicon Valley Regional

Champion

Lone Star Regional

Champion, Defensive Strategy Award
FIRST Championship Judge's Award

SCRRF Summer Classic

Champion

WRRF Calgames

Champion, Human Player Challenge Winner, King of the Hill Finalist
Robot Abilities
The robot has a reliable hanging mechanism to score bonus points.
Rocky can play effective defense and eventually won an award for its defensive prowess.