2001 FRC Season – Diabolical Dynamics
Team 254 had our strongest season yet in 2001, winning two regionals with our robot Holmz, making it to the finals of the FIRST World Championship and winning both California offseason events. The team also won a regional award for our robot's impressive industrial design.
Diabolical Dynamics – The Challenge
Diabolical Dynamics, the 2001 game for the FIRST Robotics Competition, was played 4 robots against 0, competing for high scores. The playing field was a carpeted, rectangular area divided in half by a railing with a central bridge, which could tilt to either side of the field or remain level. Two 7′ tall movable goals begin on opposite sides of the field. Each match is a maximum of two minutes long. Alliances can end the match at any time. Alliances score one point for each small ball in the goal, ten points for each large ball in the goal, ten points for each robot in the End Zone, and ten points if the stretcher is in the End Zone. The alliance doubles its score for each goal that is on the bridge if the bridge is balanced, and multiplies its score by a factor of up to three by ending the match before the two minute time limit. More Information can be found on Wikipedia .
Holmz – The Robot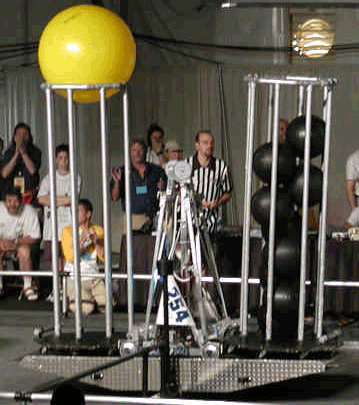 Quick Facts
Name

Holmz

Status

Disassembled

Weight

120 lbs

Size

27″ x 37″ x 60″
Competition History
Silicon Valley Regional

Champion, #1 Seed Award

Southern California Regional

Champion, GM Industrial Design Award, Incredible Play Award, #1 Seed Award
FIRST Championship Finalist
SCRRF Summer Classic Champion Finalist
WRRF Calgames Driver Challenge Champion
Robot Abilities
Robot has two arms and can grab two bonus balls and manipulate two goals concurrently.
The robot has a strong, 4 wheel drivetrain and can balance the bridge quickly.