2003 FRC Season – Stack Attack
Team 254 had a solid 2003 season, winning our home regional and taking home awards at both an away regional and at the FIRST Championship with our robot, Mario.
Stack Attack – The Challenge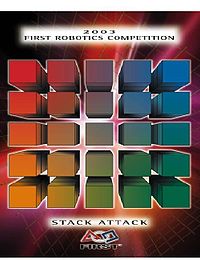 Stack Attack was the game for the 2003 FIRST Robotics Competition. In Stack Attack, two teams of two robots each attempt to win by moving large Sterilite bins into their zone and arranging them into stacks. Robots can knock down their opponents stacks in order to take points away from the opposition. 2003 was the first year which featured an autonomous portion of the match where robots could only move according to pre-programmed instructions. More Information can be found on Wikipedia .
Mario – The Robot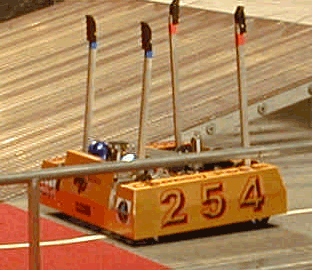 Quick Facts
Name

Mario

Status

Disassembled

Weight

130 lbs

Size

27″ x 37″ x 14″
Competition History
Silicon Valley Regional

Champion, Sportsmanship Award

Sacramento Regional

Finalist, Chairman's Award
FIRST Championship Judge's Award
WRRF Calgames Finalist
Robot Abilities
Collapses to fit under bar
Arms that lock into ramp grating
Mechanism to "walk" up ramp
High powered lifter arm