2005 FRC Season – Triple Play
Team 254 had one of our best years yet in 2005 with our robot Kara, winning the Silicon Valley Regional and becoming Finalists at the world championship. The team also won quality awards at both of the regionals it attended.
Triple Play – The Challenge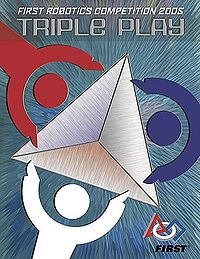 This game was the first to feature three robots per alliance. The primary game pieces were called "Tetras" which are tetrahedra made from long PVC pipe segments. The game was played on a field set up like a tic-tac-toe board, with nine large tetrahedral goals in three rows of three. The object of the game was to place the scoring tetras on the larger goals, creating rows of three by having a tetra of your alliance's color at the highest point on the goal. Triple Play was a strategically intensive game, requiring quick thinking on the part of the drivers and operators to optimize the field for their alliance. More Information can be found on Wikipedia .
Kara – The Robot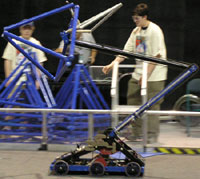 Quick Facts
Name

Kara

Status

Displayable

Weight

130 lbs

Size

27″ x 37″ x 59″
Competition History
Sacramento Regional

Finalist, Motorola Quality Award, Website Award

Silicon Valley Regional

Champion, Motorola Quality Award, Website Award
FIRST Championship Finalist, Galileo Division Champion
Robot Abilities
Fast and Maneuverable 6-wheel drivetrain (2 speeds – 14 ft/sec and 7 ft/sec)
Able to grab tetra with double jointed arm
Able to knock down hanging tetra with autonomous whip
Able to grab and score 2-3 tetras at a time
Can load from both loading stations.