2006 FRC Season
Team 254 had a very solid 2006 season with our robot Black Knight, winning the Silicon Valley and Pacific Northwest Regionals and leading our championship alliance to the divisional semifinals.
Aim High – The Challenge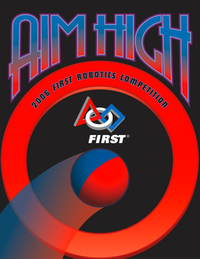 Aim High was the 2006 game for the FIRST Robotics Competition. The competition involved teams competing to gain points by delivering balls into goals and positioning their robots in certain positions on the playing field. The teams took it in turn to provide defence and attack. More Information can be found on Wikipedia .
Black Knight – The Robot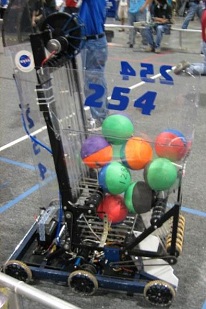 Quick Facts
Name

Black Knight

Status

Displayable

Weight

120 lbs

Size

27″ x 37″ x 59″
Competition History
Pacific Northwest Regional

Champion

Silicon Valley Regional

Champion, Sportsmanship Award
FIRST Championship

WRRF Calgames
Robot Abilities
Fast, 6-wheel drivetrain using "dog" shifting (2 speeds – 16 ft/sec and 5 ft/sec)
Can pick balls up off ground and recieve from human player
Able to shoot in center goal using a shooting wheel powered by two CIM motors
Large, exposed wheels allow for easy ramp climbing.
Free-spinning bar prevents driving up on balls.