2008 FRC Season – FIRST Overdrive
Team 254 had a spectacular 2008 season with our robot Barricade, winning the Silicon Valley Regional and the San Diego Regional and making it to the division finals at the FIRST Championship.
Overdrive – The Challenge
FIRST Overdrive was the 2008 game for the FIRST Robotics Competition, announced on January 5, 2008. In it, teams competed to complete counterclockwise laps around a central barrier while manipulating large 40 in (1 m) diameter "Trackballs" over and under overpasses to score additional points. More Information can be found on Wikipedia .
Barricade – The Robot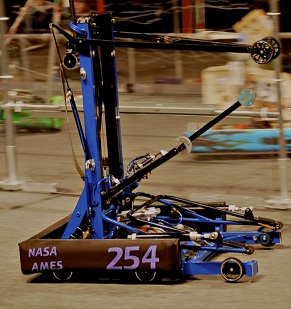 Quick Facts
Name

Barricade

Status

Displayable

Weight

120 lbs

Size

27″ x 37″ x 59″
Competition History
Silicon Valley Regional

Champion, GM Industrial Design Award

Hawaii Regional

Champion, Motorola Quality Award
FIRST Championship Galileo Division Finalist

Tempest 'n Tampa
Robot Abilities
Fast, 6-wheel drivetrain system (2 speeds – 18.5 ft/sec and 6 ft/sec)
Intake can pick up ball from ground.
Vertical Elevator raises ball to launching height and ball is launched with pneumatic ram