2009 FRC Season – Lunacy
Team 254 had a great 2009 season with our robot Devastator. We won the Silicon Valley Regional and won two separate Motorola Quality Awards for our robot's design.
Lunacy – The Challenge

Lunacy is the game for the 2009 FIRST Robotics Competition. The name and some of the features of the game honor the 40th anniversary of the first manned mission to the Moon (Latin: Luna). The goal of the game is to score as many of the game pieces in the opposing side's trailers as possible. More Information can be found on Wikipedia .
Devastator – The Robot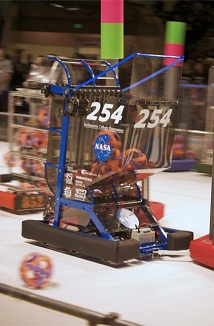 Competition History
Silicon Valley Regional

Champion, Motorola Quality Award

San Diego Regional

Motorola Quality Award
FIRST Championship

Indiana Robotics Invitational

WRRF Calgames

Champion
Robot Abilities
6 Wheel Drivetrain System (15.4 ft/sec)
Can intake from ground
Can load from human player
Can transport empty cell
Has full load of more than 35 balls in hopper
Can shoot full hopper in 3 seconds
Advanced Traction Control Algorithm allows for powerful and controlled driving on slick surfaces.