2010 FRC Season – Breakaway
Team 254 had a fantastic 2010 season with our robot Onslaught, winning two regionals and the Archimedes division at the FIRST Championship.
Breakaway – The Challenge

Breakaway is the game for the 2010 FIRST Robotics Competition, announced on January 9, 2010. Robots direct soccer balls into goals, traverse "bumps" in the field, suspend themselves and each other on towers, and/or go through a tunnel located in the center of the field. More Information can be found on Wikipedia .
Onslaught – The Robot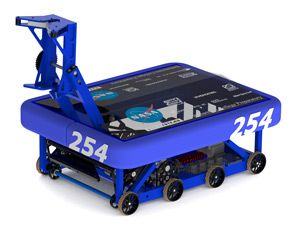 Quick Facts
Name

Onslaught

Status

Displayable

Weight

118 lbs

Size

27″ x 37″ x 17″

Build Blog

Blog
Competition History
Silicon Valley Regional

Champion, Industrial Design Award

Las Vegas Regional

Champion, Motorola Quality Award
FIRST Championship Archimedes Division Champion, Coopertition Award

WRRF Calgames

Champion, ADM CAD AWARD,
Best Autonomous Mode Award
Robot Abilities
8 Wheel Drivetrain System with two speed gearboxes. (High Gear at 15.5fps, Low Gear at 5.5fps). Center four wheels are lowered and are larger than outer four to allow for maximum maneuverability.
Adjustable Kicker powered by springs can kick ball to any position on field.
Dual roller system "pinches" ball and can keep control of ball through heavy maneuvering.
2 Jointed Arm powered off of Power Take-Off (PTO) can lift robot extremely quickly.
Arm is collapsible to allow the robot to drive under the tunnel.
Arm can be used to right the robot if tipped. (Never used in competition)