2012 FRC Season – Rebound Rumble
Team 254 had a great 2012 season with our robot Skyfire.  We won the Silicon Valley regional and were finalists in both the Championship Curie Division and the Central Valley Regional.
Rebound Rumble – The Challenge
Rebound Rumble is the 2012 FIRST Robotics Competition game. It is styled similarly to basketball where robots manipulate and shoot 8″ foam baskeballs into four hoops on each side of the field. Alliances battle it out to score the most basketballs. At the end of the match, robots must balance on bridges to gain bonus points. During qualification matches, a special Coopertition bridge can be used to gain extra qualification points. More Information can be found on Wikipedia .
Skyfire – The Robot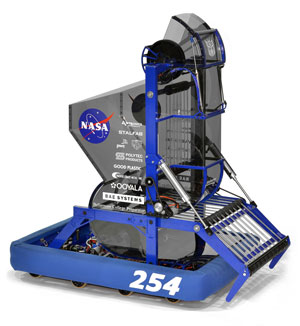 Competition History
Silicon Valley Regional

Champion, Industrial Design Award, Dean's List Finalist Award to Eric Bakan

Central Valley Regional

Finalist, Industrial Design Award, Website Award
FIRST Championship Curie Division Finalist

WRRF Calgames

Tournament Champions
Robot Abilities
Quick and highly maneuverable 8 wheel drive.  Driven by Two-speed gearbox with pneumatic brake with max speed of 20+ ft/sec
Fast and reliable three ball wide intake acquires balls from floor, bridge or on other robots' bumpers
Hopper can receive balls from human player and other robots
Long-range adjustable shooter with camera-based targeting and auto-aligning functionality
High-Speed Bump Traversal with auto-retracting"pop-up wheels"
Bridge Lowering Capability and assisted balancing with "Dingus" Bridge-Balancing Device
Multi-ball and bridge-manipulating autonomous modes, configurable on-the-fly.