2014 FRC Season – Aerial Assist
The 2014 season was possibly Team 254's most successful yet. After an incredible win streak of three regional events, the team went on to win the World Championship, going undefeated through the qualification matches. Along the way, the team won a number of awards and had the opportunity to partner with a number of phenomenal teams.
Aerial Assist – The Challenge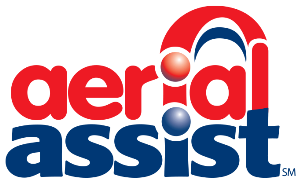 Aerial Assist is the 2014 FIRST Robotics Competition game. Teams of three robots play by passing large 20″ diameter exercise balls between each other and eventually scoring them in goals at the end of the field. Robots can pass the balls over a truss that spans the field for extra points. More Information can be found on Wikipedia .
Barrage – The Robot
Quick Facts
Name

Barrage

Status

Displayable

Weight

95 lbs

Size

28″ W x 27.75″ L x 57″ H
Robot Abilities
Quick and highly maneuverable 6 wheel drive.  Driven by 6 motors in two-speed gearboxes with max speed of 18 ft/sec in high gear and 8 ft/sec in low gear.
Dual fast and reliable ball intake mechanisms allow robot to control up to 3 balls.
Dual-angle adjustable-range flywheel shooter allows for consistent and controlled shots from a range of shooting positions within close and white zones.
Hood quickly opens for ball catching.
Consistent 3 ball autonomous modes.
17 pneumatic cylinders (a new Team 254 record).