2008 – 2009 VEX Season – Elevation
Game Overview
Elevation is played on a 12'x12′ square field. Two alliances – one "red" and one "blue" – composed of two teams each, compete in each match which consists of a twenty-second autonomous period followed by two minutes of driver-controlled play.
The object of the game is to attain a higher score than your opponent alliance by placing cubes into goals, and by "owning" goals by having the highest cube in a given goal. Points can also be earned by "parking" on the platform or by "controlling" the bonus cube.
A bonus is awarded to the alliance that has the most total points at the end of the Autonomous Period.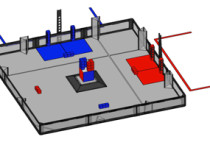 Participating 254 Teams
| Team | Robot Name(s) |
| --- | --- |
| 254A | "Rambo", "RoboRanger I", "The Cheesy Failure", "RoboRangerII" |
| 254B | "Chicken Stick", "Ghetto Betsy" |
| 254C | "Danger" |
| 254E | "E-Rex", "E-Rex v.2" |
| 254F | "Shopping Cart" |
Awards and Results
Team 254A – World Championship CREATE award
Team 254E – World Championship Competitors