2019 – 2020 VEX Season – Tower Takeover
Tower Takeover – The Challenge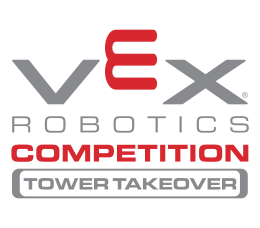 VEX Robotics Competition Tower Takeover is played on a 12'x12' square field configured as seen above. Two alliances – one red and one blue – composed of two teams each, compete in matches consisting of a 15 second autonomous period, followed by
a 1:45 driver controlled period.
The object of the game is to attain a higher score than the opposing alliance by placing cubes in towers, or scoring cubes in goals.
Season/robot summary
This robot is solely a tray robot for now. It sucks up cubes with a set of two rollers and stacks them on a massive tray. This design is very efficient at making large towers of cubes and placing them in the scoring zones. Because the rollers spin at high speeds, this robot is able to pick up all the cubes incredibly fast. In the future we plan to add arms to our rollers so that the robot is able to place cubes in the towers.