2020 – 2021 VEX Season – Change Up
Change Up – The Challenge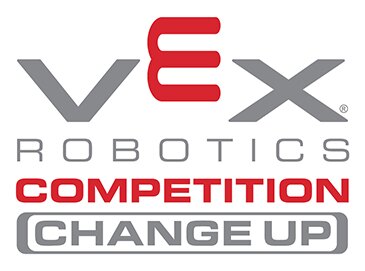 VEX Robotics Competition Change Up is played on a 12'x12' square field configured as seen above. Two (2) Alliances – one (1) "red" and one (1) "blue" – composed of two (2) Teams each, compete in matches consisting of a fifteen (15) second Autonomous Period, followed by a one minute and forty-five second (1:45) Driver Controlled Period.
The object of the game is to attain a higher score than the opposing Alliance by placing Balls in Goals, and Connecting Rows.
Scoring:
| | |
| --- | --- |
| Each Ball Scored in a goal | 1 point for the Alliance corresponding to the Ball color |
| Each Connected Row | 6 points for the Alliance corresponding to the Ball color |
| Autonomous Bonus | 6 points |
| Completed Home Row in Autonomous | 1 Win Point |
Season/robot summary
Captain: Dhruv Rao '22
Our robot will be a 4-wheel X-drive for improved speed and maneuverability, and attached to the drivebase will be an intake mechanism composed of sprockets and rubber bands that will be able to intake balls from the bottom of the tower. The tower on our robot will be an ascending set of gears and rubber bands chained together which will progressively help push balls to the top, where a final rubber band set will push them into the tower. In terms of building at home, our team has had to adjust somewhat to designing and building online, rather than in the lab, designing through calls and online rather than in person. We have worked on the CAD extensively since the start of the year, and we plan to obtain parts from the lab and start building at home in the new year.