This weekend our VEX teams had an excellent showing at the inaugural California State Championships, and ended up winning the tournament.
Five of our seven VEX teams attended State Championships: A, C, D, F, and G. The teams did well throughout the morning and noon in the qualification matches, with several great highlights throughout the day. For instance, C set the tournament high score, scoring 300 points in a single match; D won a 1 v 2 match alone when their alliance partner was disqualified; and D had the unique distinction of being the only team (out of 48) to go undefeated, earning a perfect 8-0 record and seeding first. In the afternoon, alliance selections happened and 4 of the 5 teams made it into eliminations. D, being first seed, was an alliance captain and chose as its partners 5369 (Fire Breathing Rubber Duckies) and 21C (SPUR-FLYS). C and F were both picked by 6A (Cyber Phoenix), while G was picked by 5327 A and C (Gael Force).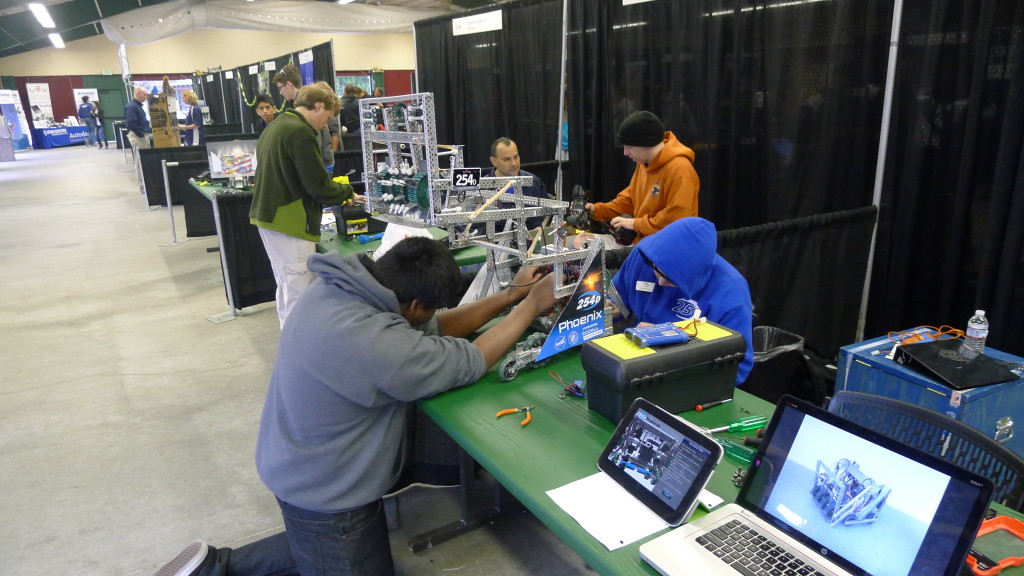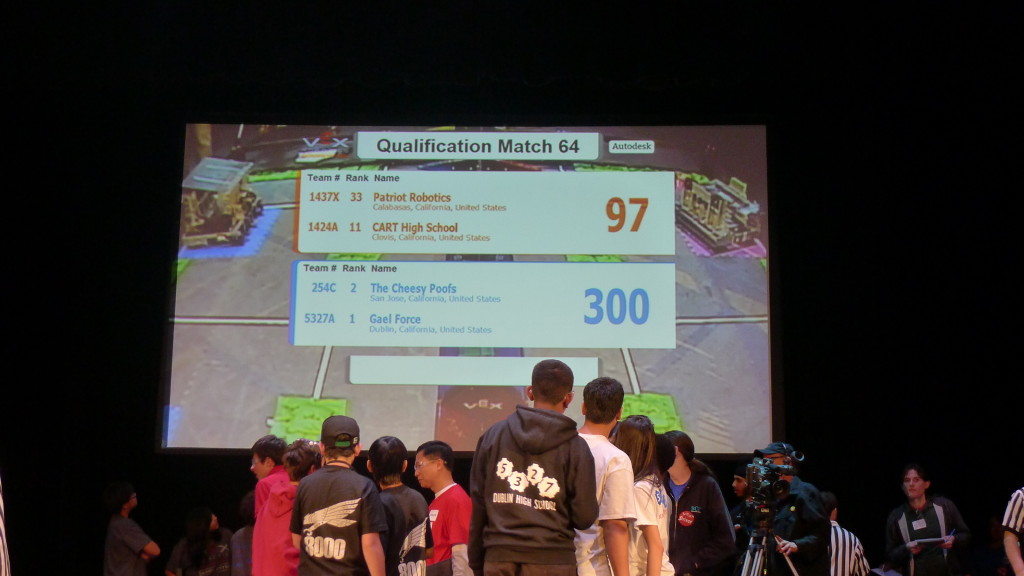 The afternoon was filled with exciting elimination matches. The C/F alliance lost in quarterfinals, while the G and D alliances each won semifinals to face each other in a Poof-on-Poof finals match. It was an exciting finals match indeed, going into a third tiebreaker match when each alliance won one round. Eventually, the D alliance pulled off the win, giving Team 254 the State Champion title, as well as qualifying 254D for World Championships.
//www.youtube.com/watch?v=qNgbmuPKrxQ
Finals Match 1
//www.youtube.com/watch?v=6XNle0v7M5c
Finals Match 2
//www.youtube.com/watch?v=q7iumjyoGKM
Finals Match 3
In addition to winning the tournament, D also won the Amaze Award for their reliable performance and outstanding programming.
We are proud of our excellent performance at State, and the success has certainly prepared us for the upcoming World Championships.