2020 FRC Build Season

Blog
A Brief Summary
As part of an eventful weekend we attended the 2022 Silicon Valley Regional in San Jose, CA. We had a great time at our second tournament of the FIRST Rapid React Season with our robot, Sideways. Alongside FRC Team 1678 Citrus Circuits and FRC Team 7419 QLS Tech Support, we were able to win the tournament, along with taking home the Quality Award!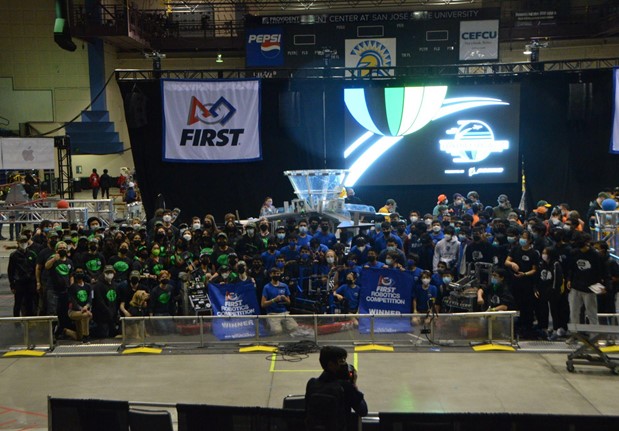 Team 254 and alliance partners Team 1678 and Team 7419 pose for a picture with Sideways after winning at the 2022 Silicon Valley Regional
Robot Performance
Qualification Matches
In the qualification matches, we executed a strategy to earn all four ranking points by winning the match, scoring at least 20 balls in the upper hub, and climbing to the traversal rung. Through the tireless efforts of both our alliance partners and our own team members, we achieved a 9-0-0 record, and a perfect ranking point average of 4.00!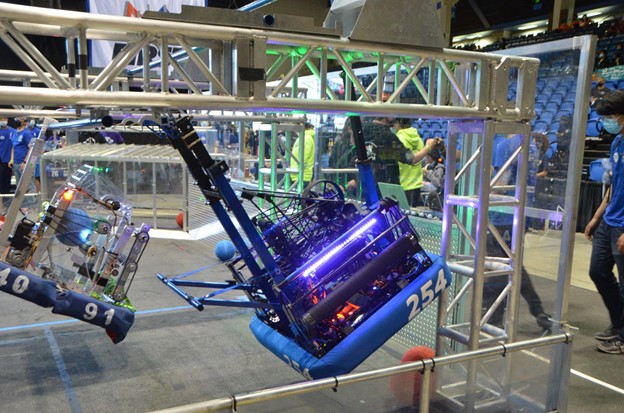 Sideways hangs, with an alliance partner, at the end of a qualification match
Alliance Selection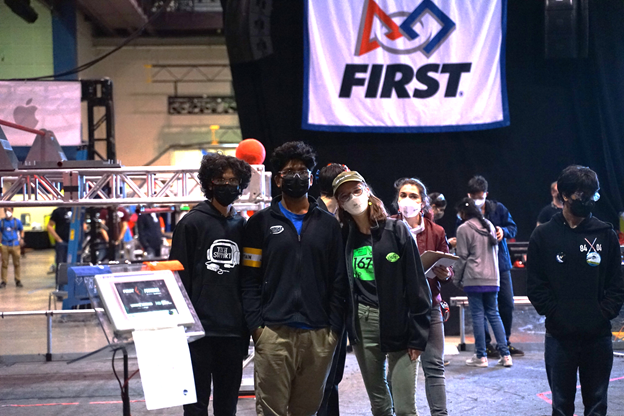 Team 254 representative, Nikhil Gangaram, stands with Team 1678 and Team 7419 as they agree to join our alliance
Going into the playoff tournament, we were excited to be able to form an alliance with FRC Team 1678 Citrus Circuits and FRC Team 7419 QLS Tech Support.
Playoff Matches
During the playoffs, we employed a strategy that involved our robot and Team 1678's robot to be on opposite sides of the field, so we didn't cross paths and bump into each other. This strategy maximized our total cargo collected and shot. We knew that balls would get stuck behind the hub, so Team 7419 swept the backside of the field while playing defense on the opposing alliance's robots. Just before the endgame started, Team 7419 started to climb, in an attempt to get all three robots on the traversal rung.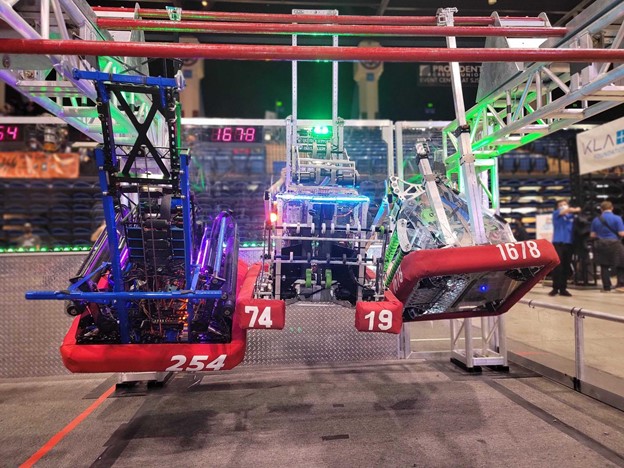 Team 254, and alliance partners Team 1678 and Team 7419, hang on the Traversal Rung at the end of a playoff match
A Special Thanks
At the Silicon Valley Regional, we would not have been able to be so successful without the amazing teams that we were able to work with during our qualification and playoff matches. Also a special thanks for our pit crew and drive team for properly maintaining our robot during the tournament. A big thank you to the Chairman's Award team for presenting our submission in front of a panel of FIRST Judges. Team 254 would also like to thank all the volunteers and judges that made this tournament an exciting experience, and all of our mentors, who helped us succeed in this regional.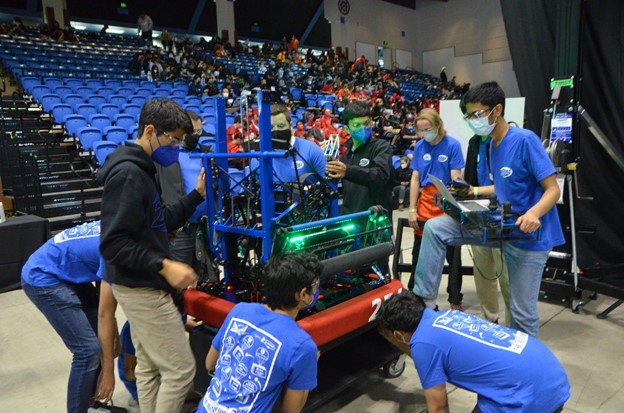 Members of Team 254 Pit Crew repair Sideways before an upcoming playoff match
Drive team members of Team 254, 1678 and 7419 strategize before an upcoming playoff match
Team 254 President, Nikhil Gangaram, and mentor, Joey Diamond, assist a team before an upcoming match
Team 254 presents our 2020 entry into the FIRST Robotics Competition: Dreadnought. Dreadnought will be competing at the Central Valley Regional, followed by the Silicon Valley Regional and the FIRST Championship in Houston. More information on the robot.