The event is free for spectators. Below is information about the tournament, including details on the qualifications for the state and US national tournaments.
Outline
Changes from last year
Schedule
Tournament Location
Concessions & Pizza Order Form
Awards Given
Information for Competitors
Information for Novices
Changes from Last Year
There are more teams competing, so if you can, please get inspected on Friday evening.
We have extended the hours for the skills challenge field. It will open at 7:30 on Saturday morning and stay open through 4:30pm. High skills challenge scores can lead to a berth at the California State Championship.
Qualifications have changed and are described in the "Awards Given" section below.
Schedule
Friday, November 22, 2013
6 pm – 8 pm
Check-In and Inspection (in Liccardo)
6 pm – 9 pm
Practice time for teams
Saturday, November 23, 2013
7:15 am
Pit Area and Registration Opens (in Liccardo)
7:15 am – 8:30 am
Inspection (in Liccardo)
7:30 am – 8:30 am 7:30 am – 4:30 pm 8:15 am
Practice Rounds (in Sobrato Theater) Skills Challenge Field open (2nd floor Sobrato Theater) Check-in closes (Teams scratched that haven't checked in)
8:30 am – 8:45 am
Driver's Meeting (in Sobrato Theater)
8:30 am – 9:30 am
Sign up for judging interview (at Pit Admin table)
8:45 am
Welcome (in Sobrato Theater)
9:00 am – 12:30pm
Qualifying Rounds (in Sobrato Theater)
12:30 pm – 1:00 pm
Lunch Break (We will have Pizza Order Forms)
1:00 pm – 2:35 pm
Qualifying Rounds Continue (in Sobrato Theater)
2:45 pm
Alliance Selection Process (in Sobrato Theater)
3:00 pm – 5:30 pm 4:30 pm
Playoffs (in Sobrato Theater) Skills Challenge field closes
~5:30 pm – 6:30 pm
Finals, Awards, Closing Ceremony (in Sobrato Theater)
Tournament Location
Bellarmine College Preparatory 960 W. Hedding St. San Jose, CA 95126//mapq.st/17Jl2d5
Street parking is very limited due to permit parking restrictions. On campus parking is marked with red on the campus map (linked below). The green boxes on the map represent the pit area.
View detailed campus map (PDF)
Concessions
Pizza will be available for $15 a large pie from Tony & Albas. Please order your pizzas by midnight on Nov 20 using this form. Please pay for your pizza when you check-in.
The following items will be available for purchase in the Liccardo Center (8am – 3pm):
Vegetarian Egg Rolls
Variety of Donuts, Muffins,
Fresh Fruit & Oatmeal
Cheetos and Cheez-Its & Coffee and Tea
Oreo Cookies & Variety of Juices
Candy Bars & Bottled Water
Cliff Bars & Snapple Iced Tea
Caesar Salad & Hot Chocolate
Cinnamon Rolls
Samosas
Awards Given
We have 5 qualifications for the VEX US Open (Excellence, Design and the tournament champions). Those teams, along with the finalists, also qualify for the California state championships.
iDesign will be offering a $100 gift certificate, which will go to the team that receives the Judges award.
Note that the skills rankings will be used to identify all additional teams that will be used to fill the state championship event to its capacity of 48 teams. Every team should realize the importance of this opportunity.
Info for Competitors
If you want to be considered for the Excellence or Design awards, you will need to sign up for an interview by 9:30am. Go to the Pit Manager to schedule (or change your appointment time if needed). The interview rooms are on the second floor of the Sobrato Theater building.
The skills challenge field is also on the 2nd floor of the Sobrato theater building. Teams are not limited to the number of attempts, however, any team with fewer than 3 attempts can move ahead of other teams waiting in line.
Teams will be scratched from the tournament if they have not checked in by 8:15am. If you are running late, please text 408-341-9066 or email [email protected] before 8:15am, or your team will not be able to compete.
Bring safety glasses, power strips, tools, programming cables, engineering notebook, RECF releases (available at: //content.vexrobotics.com/epdocs/VRC_ReleaseForm_012011.pdf). Be sure your robot can pass inspection!
Info for Novices
It is highly recommended for you to arrive Friday to go through the inspection and try a couple practice matches. Friday will be much more relaxed and our inspectors will be able to help you through the inspection process. Also, our field managers will be able to guide you through the competition process. Be sure to bring fully charged batteries, chargers, spare parts and tools in case anything breaks. Be sure your vexnet keys are working well. Lastly, double check your robot against the inspection check list.
At the tournament, check in by 8:15am. Check the match schedule when it is published (around 8:35am) and make sure you are ready for each match. Try to have fully charged batteries for each match. Be sure the drivers and coach have safety glasses when they arrive at the field to compete.
More information on the game is at the RobotEvents website. The current rankings for Robot Skills and Programming skills are listed there also.
The maps below show the tournament facilities located on the campus of Bellarmine College Preparatory. The red boxes denote campus parking, and the red lines show the best way to the parking spots. Green boxes identify the pits and blue lines show the best walkways to the pits. This PDF is a much larger version of the image below.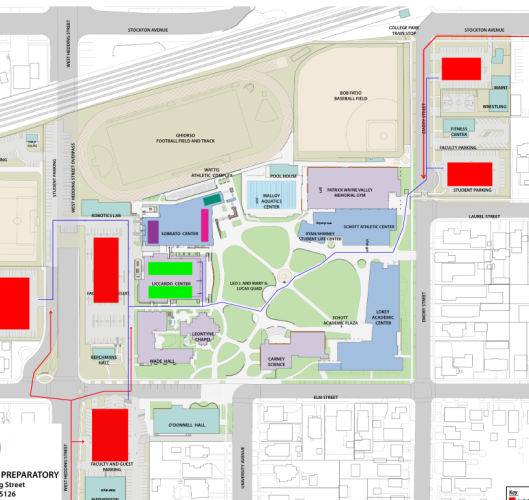 On November 2nd, several members from our team, along with our 2013 robot Overkill, participated in the Bay Area Science Festival. Along with other FRC teams, Team 254 was able to demo our robot to excited youth and adults. We were able to demo our shooter and our unique climbing abilities. We explained the basics of the robot and the game to curious youth and the intricacies of the robot to curious adults. Overall, we had a blast and hope to participate again.