A Brief Summary
As part of an eventful weekend, we attended the Arizona North Regional, for the very first time, in Flagstaff, AZ. We had a great time starting off the FIRST Power Up Season with our robot, Lockdown. Alongside FRC Team 842 Falcon Robotics and FRC Team 2403 Plasma Robotics, we were able to win the tournament!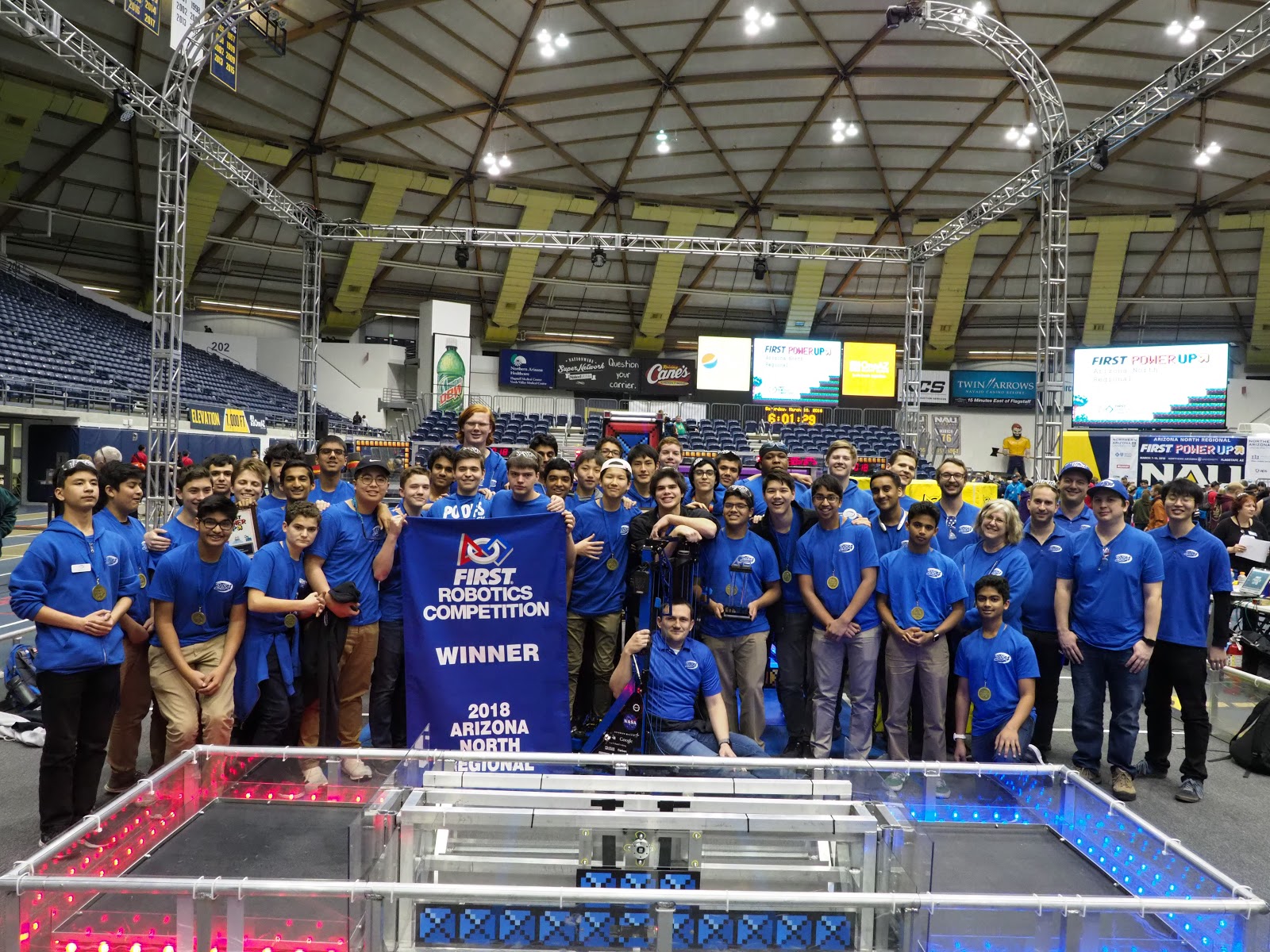 Team 254 poses for a picture with Lockdown after winning at the 2018 Arizona North Regional
Robot Performance
Qualification Matches
Throughout our qualification matches, we used an experimental strategy by testing out which of our autonomous programs worked best during a match. From this experimentation, we concluded that it would be best to use our autonomous program, which scored 2-3 cubes on the scale, to establish an early lead in a match. This autonomous program helped us gain ownership of the scale, but we had to focus more on maintaining ownership of the switches rather than the scale. Whenever we had alliance partners who could not secure the switch consistently, we ran our autonomous program for the switch to help our alliance partners before the tele-op period. During every match, we hung with our partners and used the levitate power up for an extra ranking point. By the end of the qualification match period, we were seeded first and had a undefeated record.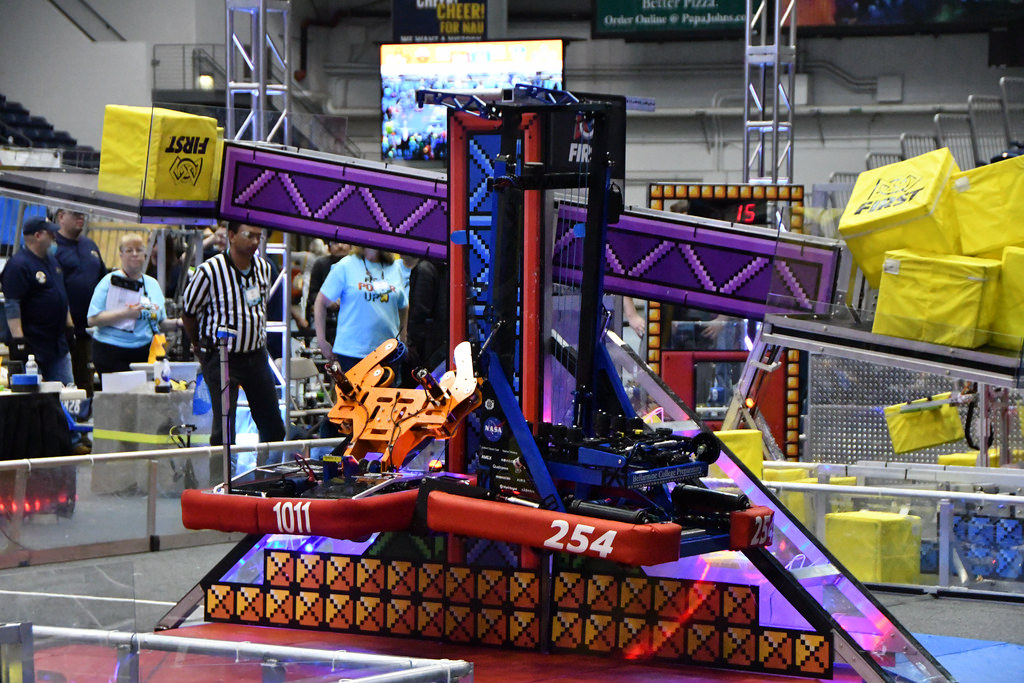 Team 254 and alliance partner Team 1011 work together to hang during Qualification Match 86
Alliance Selection
Going into the elimination period, we chose to form an alliance with FRC Team 842 Falcon Robotics, FRC Team 2403 Plasma Robotics.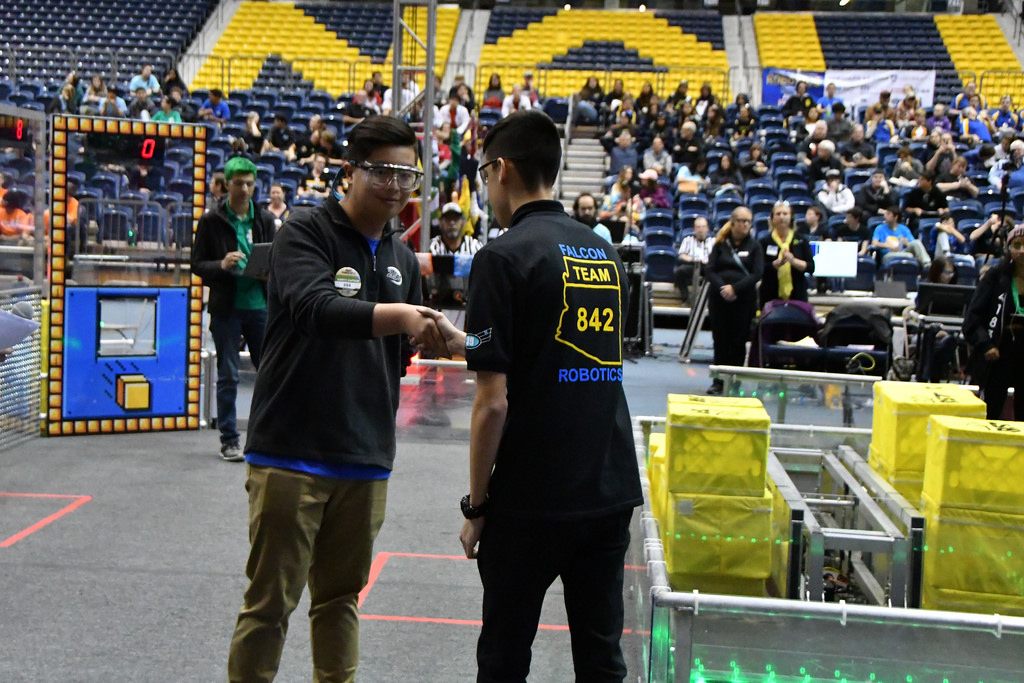 Team 254 representative, Brandon Chuang, greets Team 842 as they agree to join our alliance
Elimination Matches
During the elimination matches, we maintained our undefeated record for the entire tournament. Our autonomous program and Team 842's robot, worked to score on the scale during each match. This allowed us to score on switches, while Team 842 covered the scale during the tele-op period. We also focused on stopping our opponents from gaining ownership of their own switch. If we had spare time during a match, we passed cubes through the exchange. Team 2403's robot worked to gain ownership of our own switch and we also helped with scoring cubes in our switch. During finals, Team 2403 focused on switch, exchange, and defense against opponents who tried to take ownership of our switch. With an organized strategy and great alliance partners, we scored an all-time high of 594 points in Finals Match 2, allowing us to become the first-place alliance at the tournament!
Helping Other Teams
The Alliance Readiness Crew worked hard throughout the tournament to assist Team 6585 Hózhóogo Naasháa Doo and Team 6656 Ryu Botics. When Team 6656 needed an intake, our crew searched for the necessary parts and mounted a simple 2-wheel intake onto their robot. In addition, we helped them write an autonomous mode that crossed the auto line consistently. When Team 6585 needed a robot, our crew worked for 3 days to build and wire a drivebase, 2-wheel intake, and a polycarbonate box for collecting cubes from the portal. Through this experience, students were able to make friends and get more hands on with designing an actual robot.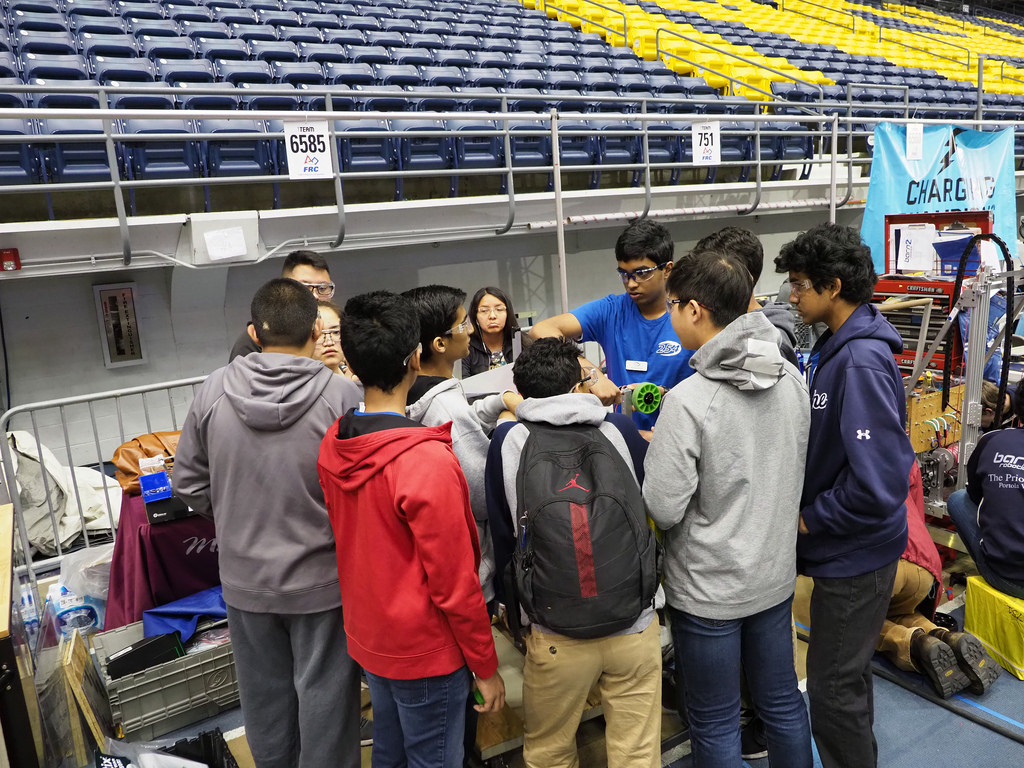 Our alliance readiness crew assists Team 6585 in mounting a newly designed intake
A Special Thanks
At the Arizona North Regional, we would not have been able to be so successful without the amazing teams that we were able to work with during our qualification and elimination matches. Also a special thanks for our pit crew and drive team for properly maintaining our robot during the tournament. A big thank you to the chairman's presentation team for handling our team's Chairman's Presentation in front of a panel of FIRST Judges. Team 254 would also like to thank all the volunteers and judges that made this tournament an exciting experience, and all of our mentors, teachers, and parents who helped us succeed in this regional.
Members of the Team 254 Pit Crew repair Lockdown before an upcoming match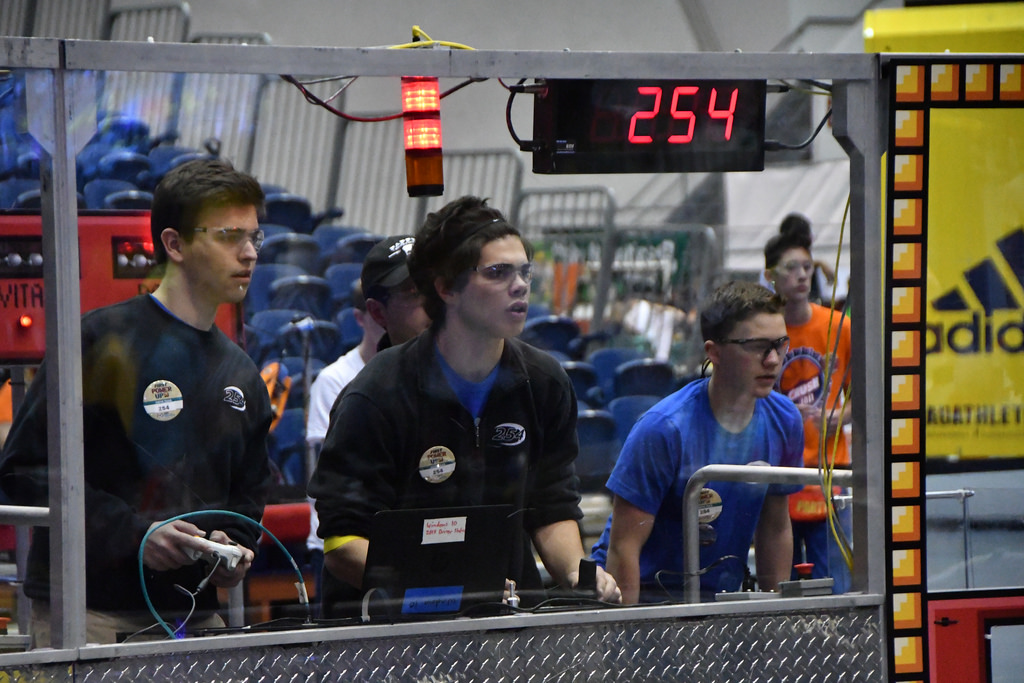 Our drive team works together during a tense eliminations match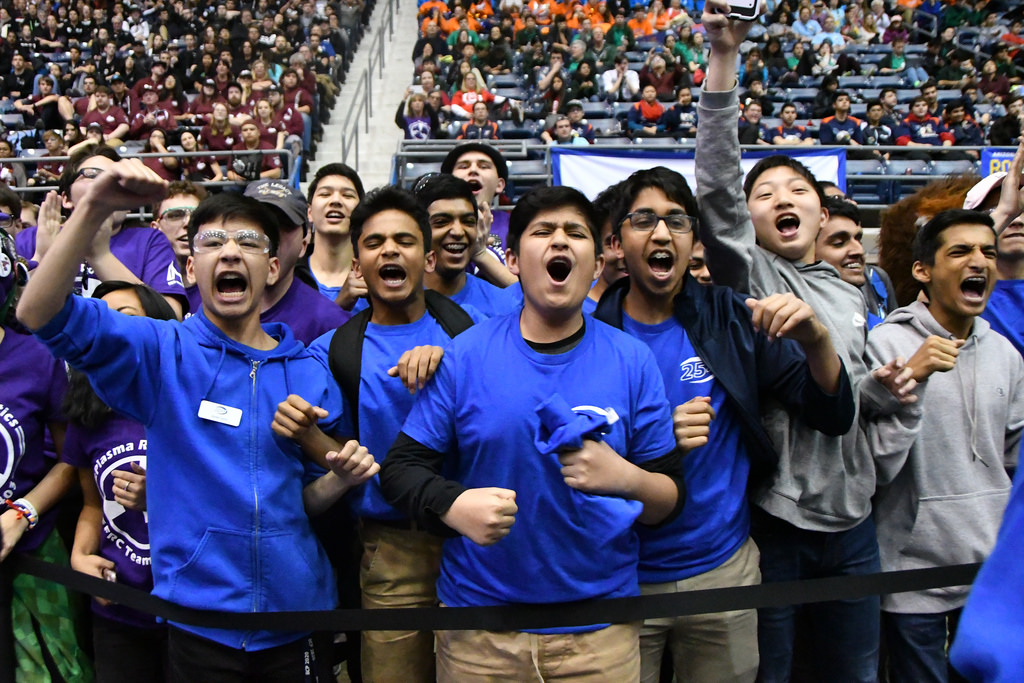 Spirited Team 254 members cheer excitedly for their alliance
Team 254 presents our 2018 entry into the FIRST Robotics Competition: Lockdown. Lockdown will be competing at the Arizona North Regional, followed by the Silicon Valley Regional and the FIRST Championship in Houston. More information on the robot.