Posts Tagged '
tournaments

'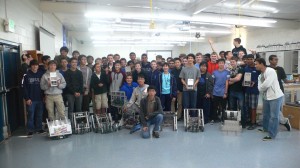 This past weekend Team 254's seven VEX teams were split between two tournaments, one in Modesto and one in Los Angeles. Teams 254 A, C, and F went down to the CSUN Los Angeles Regional, while Teams 254 B, D, E, and G went to the Central Valley Sack Attack Tournament in Modesto. 254F became an alliance captain at Northridge, and 254E became a captain in Modesto. Every one of our VEX teams reached the elimination rounds for a second consecutive tournament, a fact which every 254 member should be very proud of.
In Northridge, C and F played against each other in one of the division finals, with F moving on to the tournament finals:
In Modesto, 254G went on to win the tournament along with their alliance partners 5327A and 5327C! 254D also posted an outstanding score of 206 in Robot Skills, which currently puts them in a tie for 17th in the world.
Congrats to the success of all our VEX teams this weekend after putting in hundreds of hours of hard work and commitment! These were the last two tournaments planned for Team 254 to attend until the VEX World Championships in April. However, with the recent unveiling of a California State Championship Tournament in March, Team 254 will be reevaluating our future plans for the robotics team as a whole for the coming semester. Currently Teams 254 A, C, F, and G are qualified to attend the first annual California State Championships.
Today's Bellarmine VEX tournament was one of the best-run ones in years, and to top it off two of our VEX teams won the tournament.
This was the only tournament this season in which all 7 254 teams were competing, and all of them did extremely well. 254C had an impressive undefeated (6-0-0) record in qualification matches and therefore seeded 1st. After them was 254D in the 6th seed, and rounding out the top 8 was 254F in the 8th seed.
Other 254 teams were scattered throughout the rankings, but that didn't matter because during alliance selections, all 7 teams either got to pick or were picked. As 1st seed, 254C got the first pick and chose 5369, the Fire Breathing Rubber Duckies from Challenger (which Abhi Kumar's little brother is on) as their 1st partner. Their 2nd alliance partner was our very own 254A.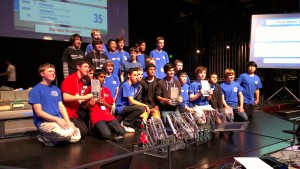 Meanwhile, 254D was picked by the 5th seeded team, and 254F also got to pick a partner. This pushed 254B into a picking position, and they picked another 254 team, 254E, as their 1st partner and 254G as their second partner. Unfortunately, F and D had to face off in quarterfinals. F came out on top, so all teams except D got into semifinals.
In semifinals, the C/A alliance beat their opponents and moved forward, while the B/E/G alliance and F alliance were eliminated. C and A got to go to finals, squaring off against Oakland's 8000A and 8000B, who were allied with 6A. Things looked bleak when overheated VEXnet keys caused 5369 to lose connection in the first match, causing a loss. However, 254A pulled off an incredible comeback in the second match, descoring every point in our opponent's trough and leaving them only with floor tile goals, giving us the victory. 254C and 5369 then came together once more to beat the two 8000's in the third match, winning us the tournament.
It was an incredibly nail-biting finals round, and all members of the team, not just those on C and A, were extremely excited that 254 had taken back the Bellarmine title after losing it last year. All in all, it was an incredible weekend and an incredible comeback, and all of us are proud of our VEX teams.
This Saturday, we had our first VEX tournament of the season at San Ramon. 6 of our teams (A-F) were present at the competition. Amazingly, all 6 of these teams got into elimination rounds. 3 of them were eliminated in quarterfinals, while the other 3 were eliminated in semifinals. So, while we did not win, we are proud of having gotten so many teams into elimination matches. Furthermore, the day provided several highlights. For instance, one qualification match saw 254F and 254E in the same alliance, and together they racked up an incredible score of 210 points. The video of this match is here:
Also, shortly thereafter, this happened: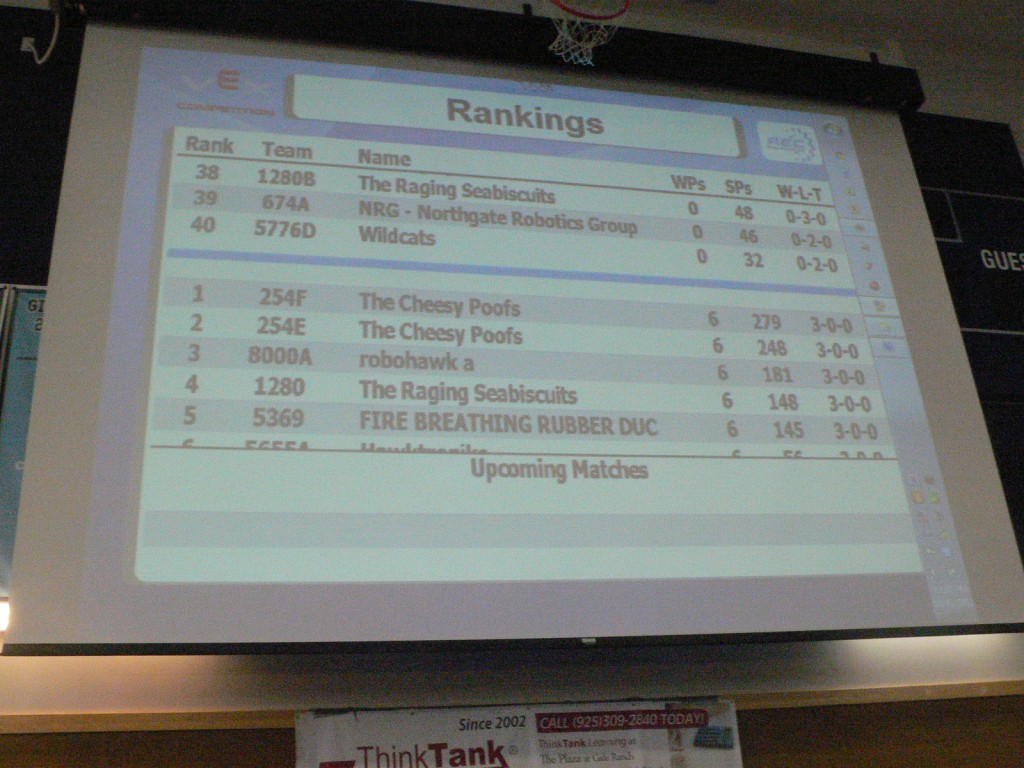 That's 2 of our teams, E and F, back to back on the top of the tournament ladder. Unfortunately, they later fell in the rankings but it was great while it lasted.
All 6 teams worked very hard at this tournament and did very well, if you weren't there then please do congratulate them this week. We will now be looking forward to our next tournament, Bellarmine, which we are definitely aiming to win!