A Brief Sumary
As part of an eventful weekend, we hosted Chezy Champs, our annually hosted offseason FRC tournament at Bellarmine College Preparatory, in our hometown of San Jose, CA. We had a great time jumping back into action with our robot, Lockdown, before the start of the 2019 FRC Season. Alongside, FRC Team 1678 Team Citrus Circuits, FRC Team 649 M-SET Fish, and FRC Team 2557 SOTAbots, we were able to win the tournament!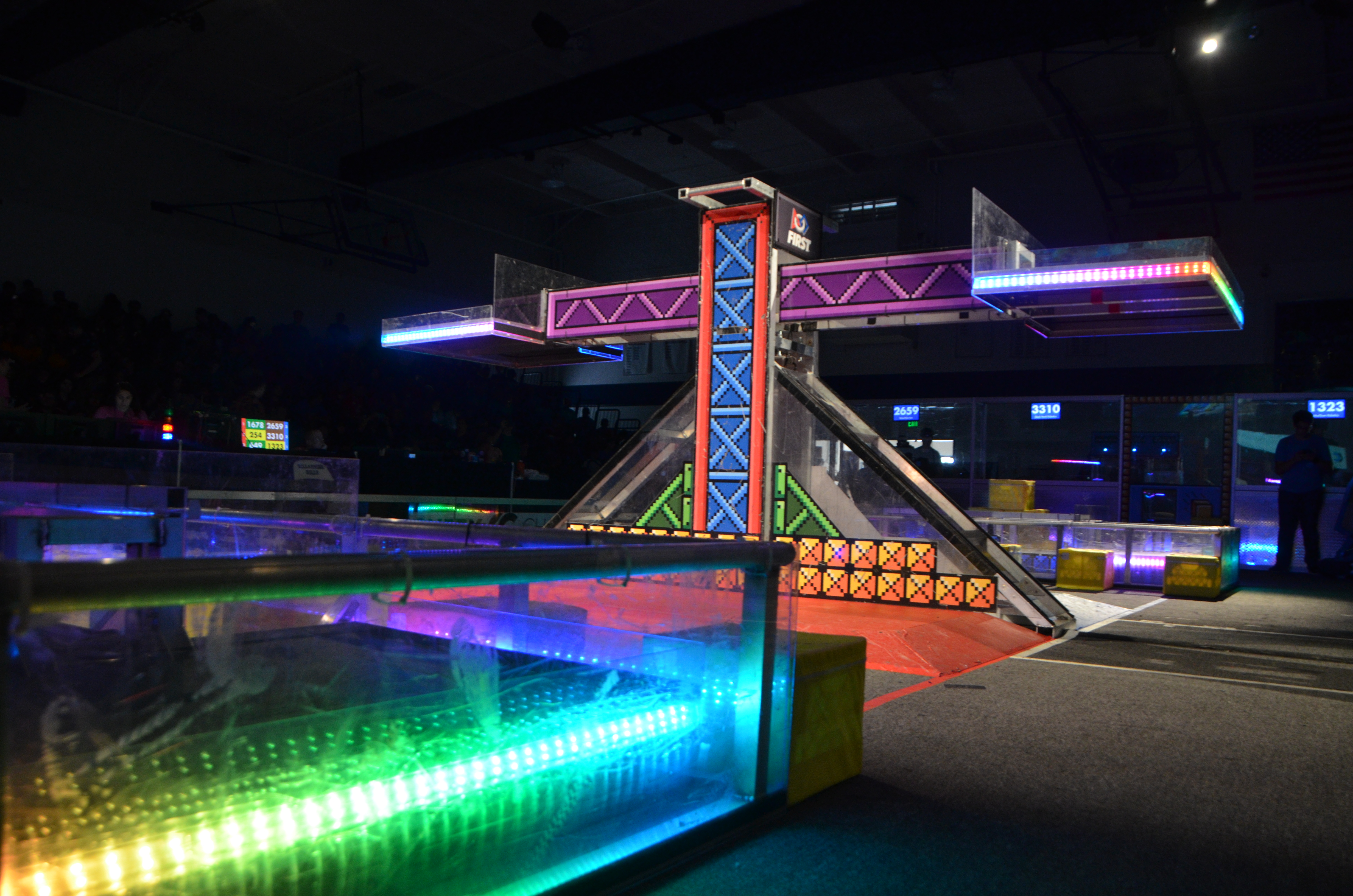 Robot Performance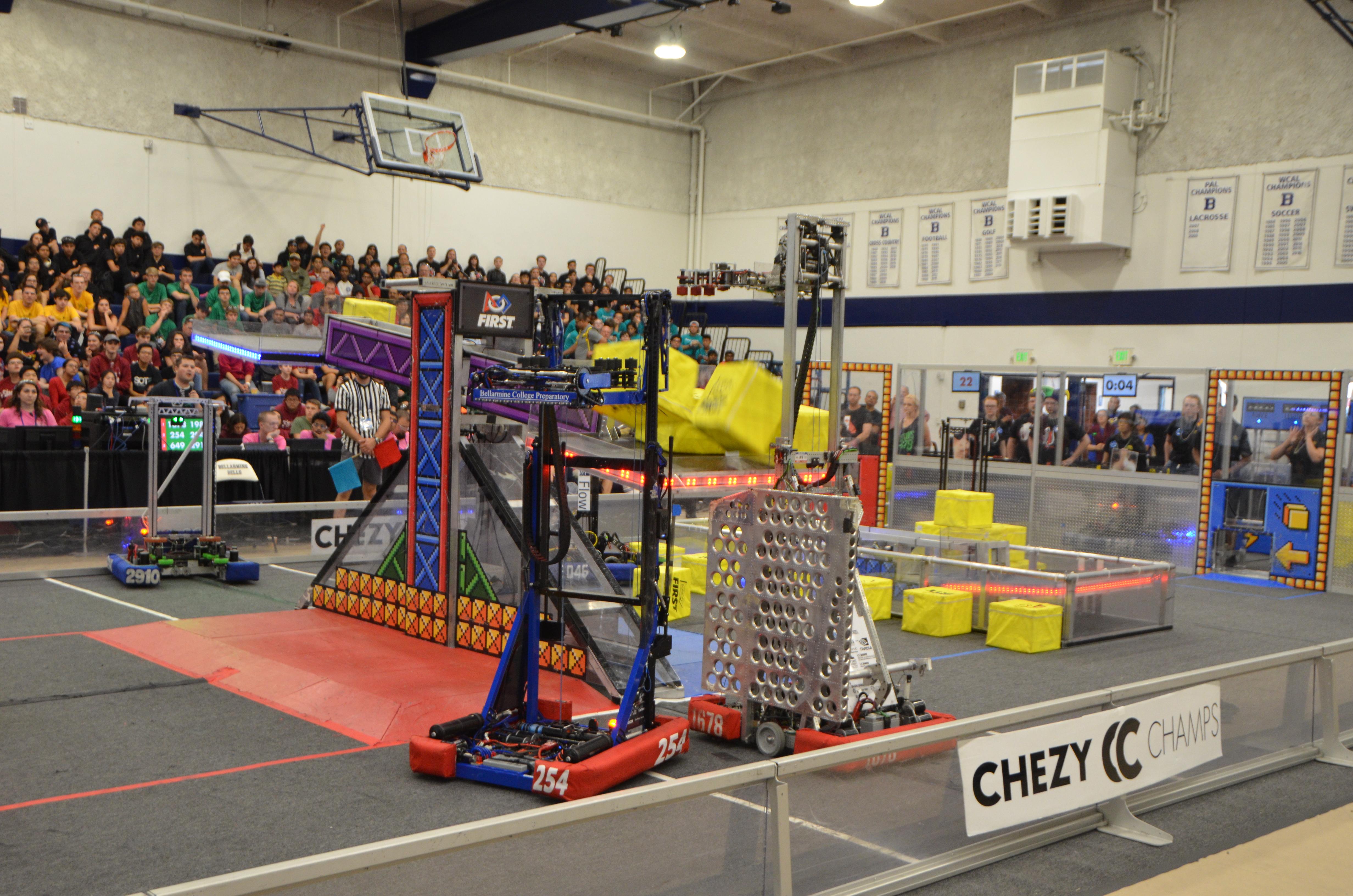 Lockdown faces some competition in scoring on the scale
Throughout the qualification matches, we had a very loose strategy. We had a new drive team for this year, so we were very relaxed in our approach to the game and generally focused scoring on the scale. Though we lost a few quals matches and did not seed first, we were chosen to join an alliance with generous Team 1678 (Citrus Circuits). During elims, we had scale-heavy matches and switch-heavy matches. During our scale-heavy matches, we worked with Team 1678 to score on the scale until we had a substantial lead. After focusing on the scale, we would divert our attention to our switch or attack our opponent's switch of necessary. For finals, our objective was to build a solid lead after auto and then maintain ownership of the scale. We ensured that we completed this objective by placing all of the switch fence cubes on the scale. Whenever we had a lead on the scale, 1678 would maintain it and we would do our best to slow Team 1323 down by attacking opponent switch and disrupting their pyramid-scale cycles. We would like to congratulate the winning alliance of Team 3310 (Black Hawk Robotics), Team 1323 (MadTown Robotics), Team 2659 (RoboWarriors), and Team 1538 (The Holy Cows).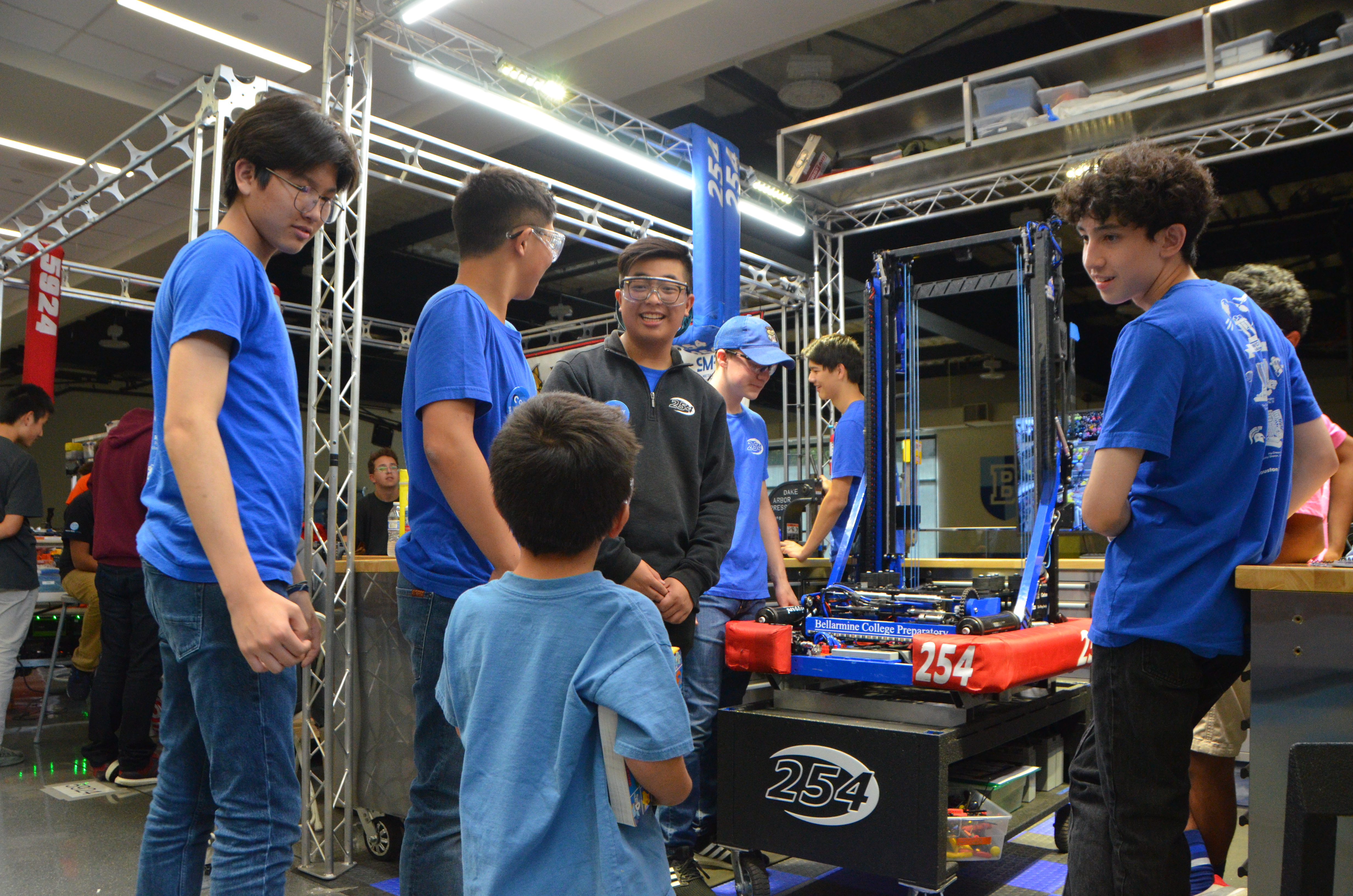 Team 254 Members show Lockdown to a visitor
A Special Thanks
Chezy Champs was very special this year due to the efforts of so many people and organizations. Team 254 would like to thank our friends from RoboSports Network (RSN) for providing our audience with such a great analysis of each match and team at the tournament. We would also like to thank all the volunteers, who helped make Chezy Champs possible. It was truly an incredible experience to host an offseason tournament attended by so many talented teams, even those who chose to attend from out of state, and to make new friends and catch up with old ones too!
The Bellarmine VEX tournament will be taking place on 11/17 this year. As this event is run by our team, we need both students and parents to volunteer. We greatly appreciate any help!
Congratulations to all new members who were accepted on to the team. Hope you all have a good school year and a great season! Here is the list of accepted students, displayed using ID numbers.
New Members:
| | | | | | |
| --- | --- | --- | --- | --- | --- |
| 220076 | 220157 | 220388 | 220413 | 220436 | 221032 |
| 221039 | 221222 | 221247 | 221263 | 221315 | 221316 |
| 221351 | 221359 | 221365 | 221394 | 221408 | 221423 |
| 221433 | 222023 | 222024 | 222049 | 222058 | 222061 |
| 222066 | 222083 | 222094 | 222095 | 222099 | 222124 |
| 222127 | 222129 | 222131 | 222135 | 222137 | 222148 |
| 222149 | 222158 | 222168 | 222173 | 222174 | 222179 |
| 222188 | 222195 | 222196 | 222204 | 222218 | 222219 |
| 222224 | 222226 | 222196 | 222204 | 222228 | 222260 |
| 222269 | 222279 | 222285 | 222288 | 222302 | 222313 |
| 222323 | 222333 | 222335 | 222350 | 222355 | 222365 |
| 222371 | 222381 | 222387 | 222402 | 222404 | 222409 |
| 222419 | 222421 | 222423 | 222426 | 222427 | 222428 |
| 222435 | 222436 | 222437 | | | |