A Brief Sumary
As part of an eventful weekend, we attended Capital City Classic, an annually hosted offseason tournament hosted by Team 1678 (Citrus Circuits), in Davis, CA. We had a great time jumping back into action with our robot, Lockdown, before the start of the 2019 FRC Season. Alongside, FRC Team 1323 MadTown Robotics, FRC Team 199 Deep Blue, and FRC Team 3859 Wolfpack Robotics, we were able to win the tournament!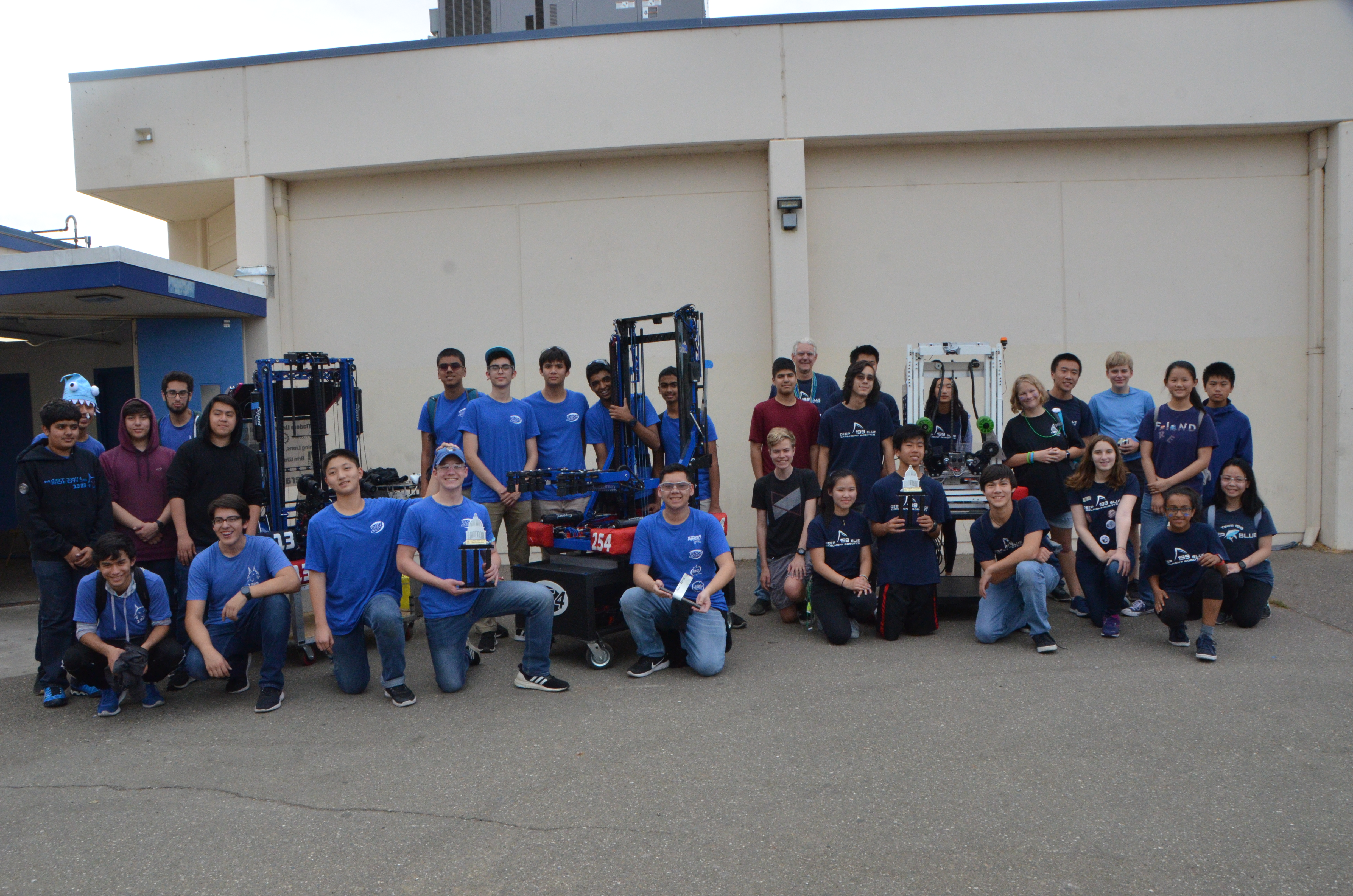 Team 254 Members pose with their alliance partners and fellow champions
Event Highlights
General Summary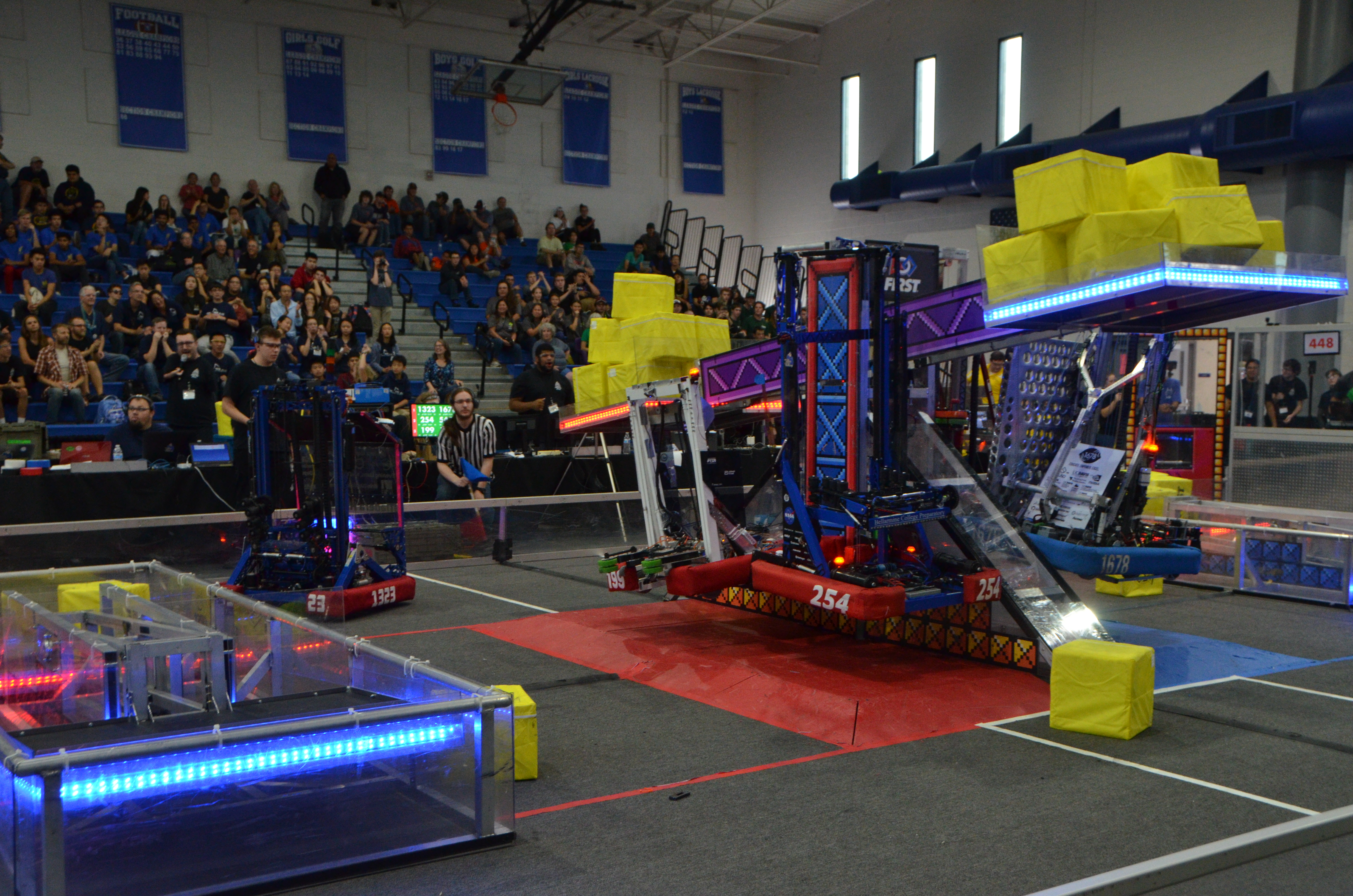 Team 254 hangs at the end of a quarterfinals match
Overall, Capital City Classic was a great event for our team. After ending with a record of 15-0, our team members were excited throughout the tournament. With an 8 person pit crew and drive team, we were very effective and made sure the rest of our team members were at home working on our summer project robot to prepare to Madtown in 2 weeks.
Robot Performance
In general, we prioritized ranking points throughout the event. Since many robots at the event did not focus on the scale, we adopted a strategy of aggressive offense where we would score on our opponent's switch. We would also focus on maintaining ownership of the scale and climbing at the end of the match for the extra ranking point. We ended up seeding first with 31 ranking points over 9 matches.
During Alliance Selection, we chose to form an alliance with Team 1323 since they had a great scale robot that could really help us establish a lead during auton. To accompany two strong scale robots we looked for two robots skilled in locking down the switches and exchange, like Team 199 and Team 3859.
During elims, we worked with Team 1323 to lock down ownership of the scale during auton. If necessary, Team 1323 would focus on offense towards the opposing alliance's switch. During finals, we did have some scale competition with team Team 1678 and Team 1425 on the opposing alliance. Thus, we played more conservatively and made sure we had a solid buffer on the scale before rotating to other tasks. We would also like to recognize the opposing alliance of Team 1678 (Citrus Circuits), Team 1425 (Error Code Xero), Team 5458 (Digital Minds), and Team 4171 (BayBots).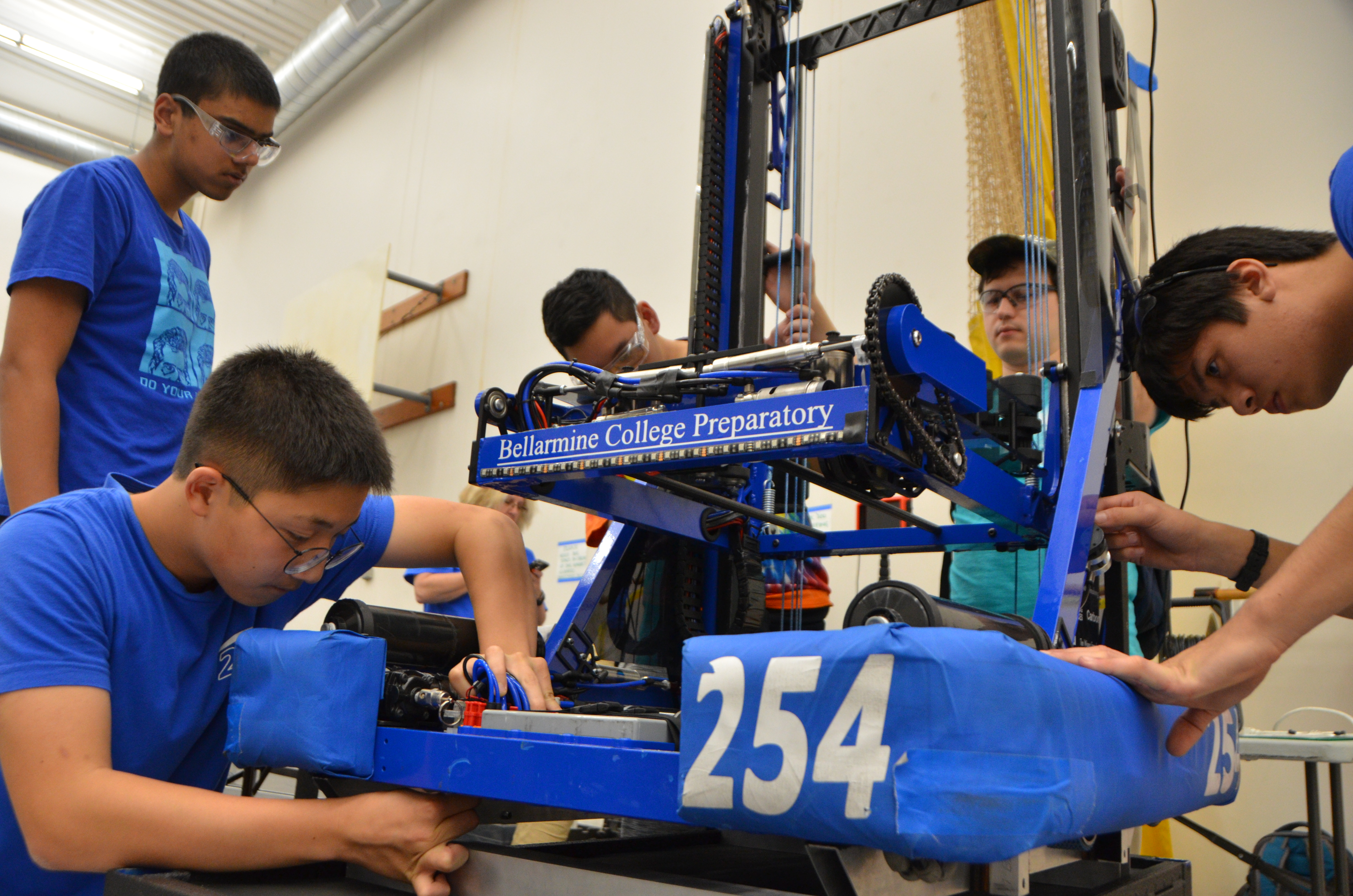 Members of the Team 254 Pit Crew repair Lockdown before an upcoming Finals Match
A Special Thanks
Since this was Team 254's first time at Capital City Classic, we would like to say thank you to Team 1678 (Citrus Circuits) for hosting the tournament and making us feel welcome.