At the Bay Area Science Festival we got the opportunity to speak with many teams in the area about their robots; these teams included Team 1868, Team 604, and many more. We also talked to developers and engineers around the bay area representing their organizations and companies. The representatives of the Berkeley high school robotics competition (Pioneers in Engineering) were present, and we were able to discuss how to reach out to high schools with smaller STEM programs using competitive robotics. In addition to the robotics booths around our demo area, there were over 100 different stands and booths on the ground floor of the stadium, each bringing STEM to the public in a different and interesting way.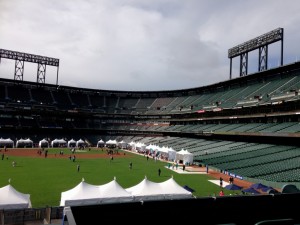 A view of the Bay Area Science Festival
One booth allowed people to separate the DNA from a strawberry plant using alcohol and detergent. Another stand presented a demo for the MIT app maker (//appinventor.mit.edu/explore/front.html) and the presenter created a text to speech android application in front of us in less than 5 minutes! Not only were there copious booths, but amiable and experienced engineers and scientists were everywhere and ready to discuss their field of research. By the fire pits, environmental scientists discussed the future of agriculture. By the portable planetarium, an astronomy professor discussed the reason for Pluto not being a planet with an interested and engaged audience.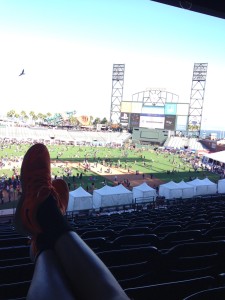 Miggy (team 254 member) relaxing with an impressive view of the festival
At our booth, interested fans asked us about FIRST and how it is organized, as well as the build of our robot and its specs. Children and adults alike had fun driving Barrage using our two joysticks and were guided by our driver, Christian. Even beyond our booth, FRC alumni (including one very kind and complimentary college student who was presenting for the Berkeley Science Review) recognized our team and started conversations about this year's robot, Barrage, and some of our past robots and competitions.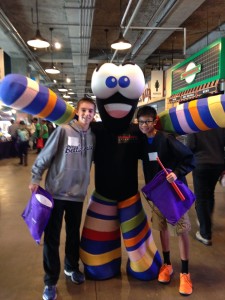 Two 254 members with their free merchandise posing with a giant bug
All in all this was a great opportunity for our team to talk to STEM supporters all over the area. We had a lot of interesting and inspiring discussions with many of the people here, and look forward to next year's Bay Area Science Festival!