by Jeremy Tanlimco '15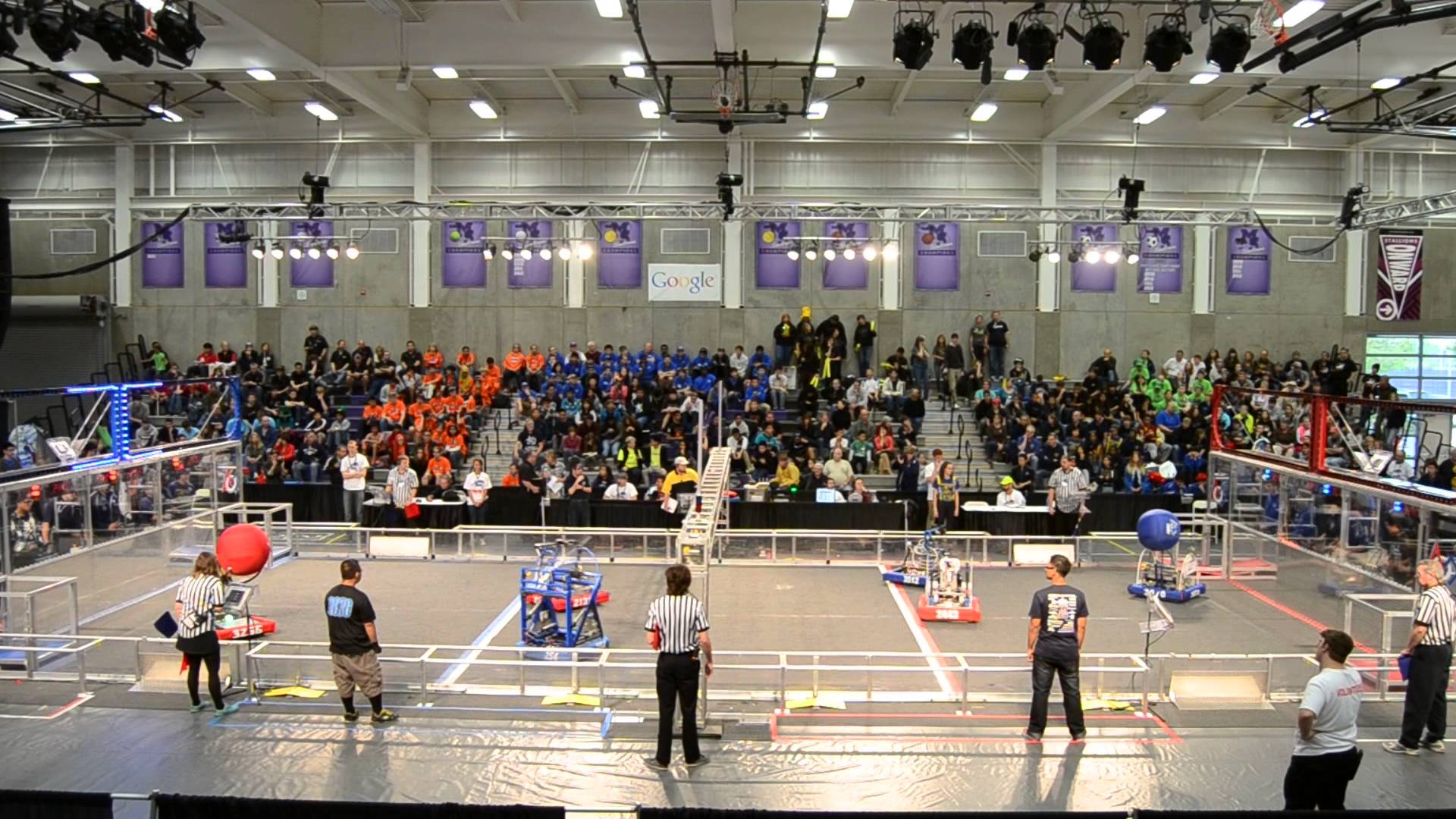 At the Central Valley Regional First Robotics Competition (FRC), Team 254 earned an outstanding victory. Seeded first place out of 45 total teams and winning 10 out of 11 matches in qualifications, the Cheesy Poofs excelled on the field.
At the final tally, we had 490 total assist points (the second-highest score was 370) and 536 autonomous points (second-highest score being 468). To top it off, 254 was given the Motorola Quality Award for a well-designed and efficient machine.
As first seed after qualifications, we were given first choice in alliance partners for the elimination matches. We chose 973 from Atascadero High School, the team with whom we won the 2011 World Championships. Their robot had been inoperative and inconsistent for the majority of the qualification matches until the end, when their robot began working and performing well. As a result, they were seeded 43rd out of 45 teams in attendance, and 254's scouting team stunned the crowd by skipping over the 41 teams seeded above them. Our second alliance partner was Team 2135 from Presentation High School, our sister school in San Jose. With them we went on to win our quarterfinal and semifinal rounds in two matches (each elimination match is scored best out of three) and prepared for our finals matches against 1671, 3970 (from Duncan Polytechnical), and 1323 (from Madera High School).
Our alliance formulated its finals strategy: the Poofs would implement our thus far highly successful 3-ball autonomous routine, and 973 would implement its defense routine in autonomous against the accurate 1323. During the driver-controlled period we would attempt as many assists as possible to edge out the other alliance by sheer number of cycles per game; such a cycle involved the Bellarmine human player throwing the ball into the Presentation robot to pass to 973's robot, which would then launch the ball over the truss for our robot to chase down, retrieve, and score. Unfortunately, due to an unlikely combination of what our competition director called "everything that could possibly go wrong," we lost our first finals match by a close 130 to 136. The Poofs staged a comeback by winning our next two finals matches 244-158 and 148-109 to take the Regional, setting the tournament high score of 280 on the way.
We are proud of our performance and would like to congratulate our alliance partners 973 and 2135, for their contributions to this alliance victory, and finalists 1671, 1323, and 3970 for a round well played. Furthermore, 254 would like to commend 1671 for its Regional Chairman's Award win, the highest award in a FIRST Regional.
The Poofs look forward to the upcoming Waterloo and Silicon Valley Regional competitions.