A Brief Summary
As part of an eventful weekend, we hosted Chezy Champs, our annually hosted offseason FRC tournament at Bellarmine College Preparatory, in our hometown of San Jose, CA. We had a great time jumping back into action with our robot, Misfire, before the start of the 2018 FRC Season. Alongside, FRC Team 1011 Team CRUSH, FRC Team 696, Circuit Breakers, and FRC Team 5104 BreakerBots, we were able to win the tournament!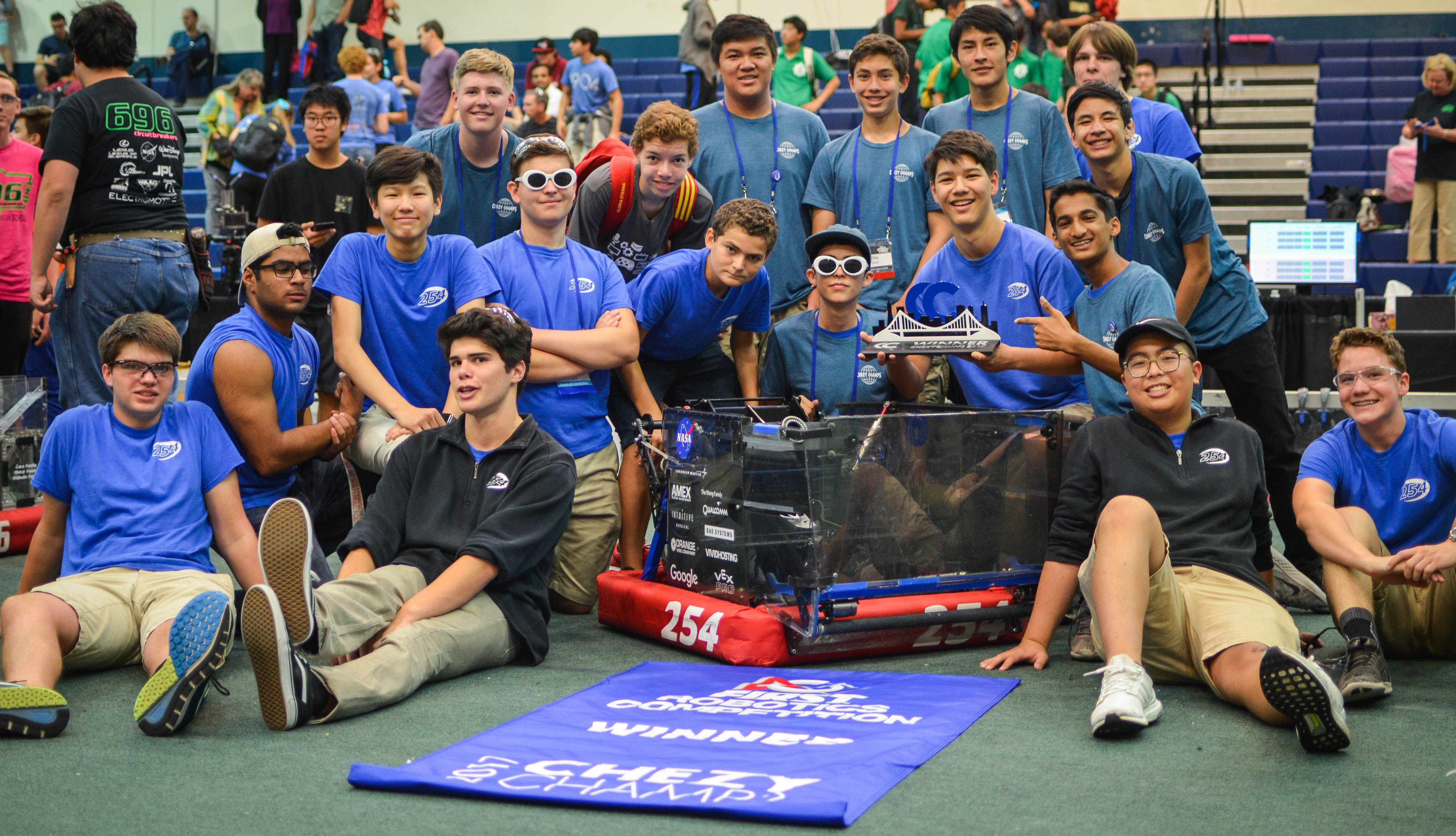 Team 254 Members pose for a picture with Misfire after winning at Chezy Champs 2017
Event Highlights
General Highlights
Check out this great highlight reel made by RoboSports Network (RSN)!
Exhibition Match
At the tournament, we hosted an exhilarating exhibition match, which included the several teams with highly skilled shooting robots. The standard rule for this match was that the only way to score points was to shoot fuel into each alliance's respective boiler. The teams which participated in the exhibition match:
The Blue Alliance
Team 971 Spartan Robotics
Team 973 Greybots
Team 1678 Citrus Circuits
The Red Alliance
Team 254 The Cheesy Poofs
Team 1323 Madtown Robotics
Team 3309 Friarbots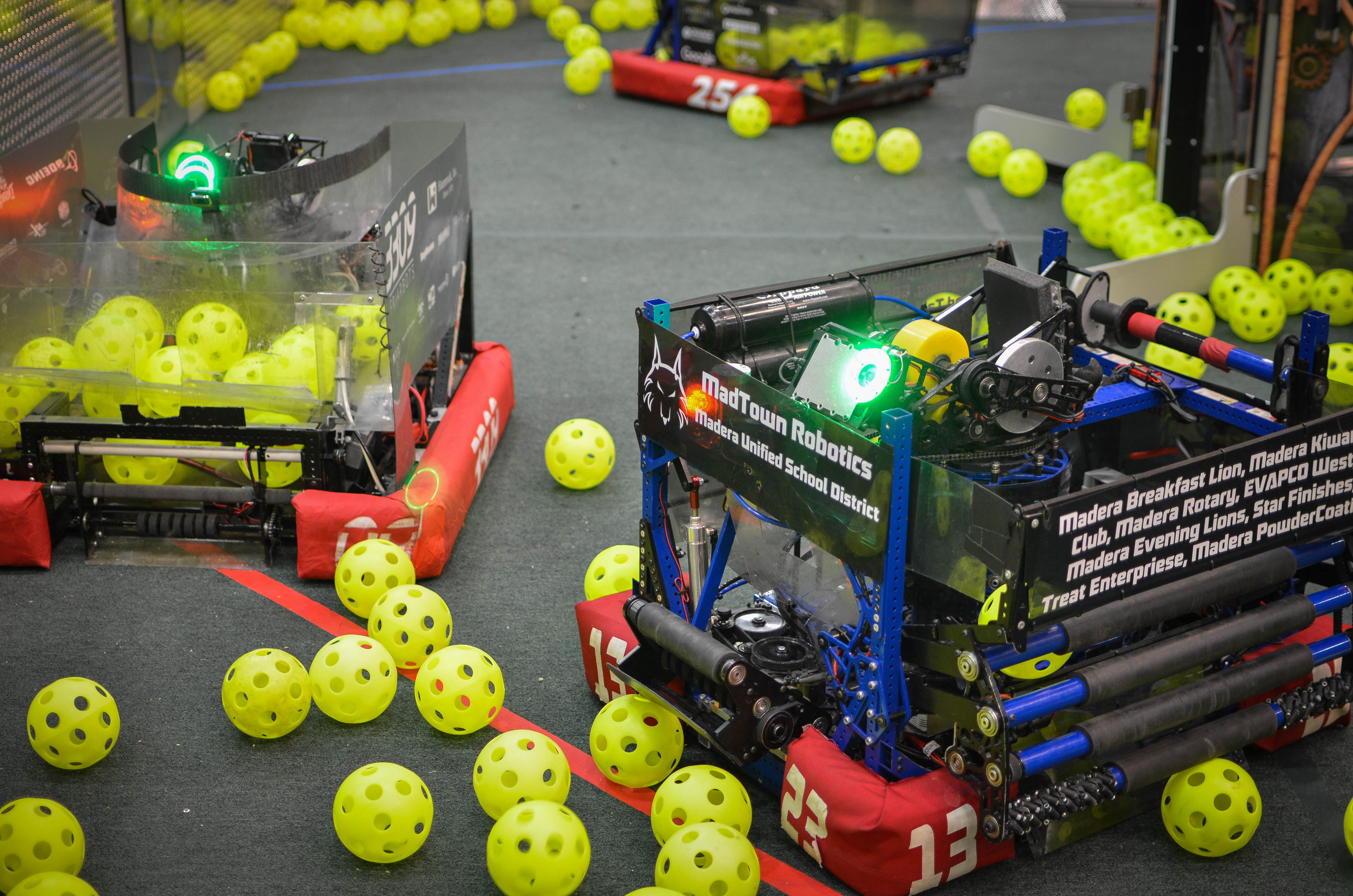 Team 1323, Team 3309, and Team 254 work together to gather fuel to shoot into the boiler
The Red Alliance started off with a significant lead by scoring 50 fuel balls into the boiler, making it an amazing show for the audience to see 3 robots scoring fuel into one boiler at once! Eventually, the Blue Alliance slowly started catching up with the Red Alliance by consistently scoring their collected fuel into their boiler. With a minute left in the match, the our friends from Team 973 displayed their true defensive skill by blocking Team 1323's path across the field. Though the Blue Alliance's efforts were equal to that of the Red Alliance, the Blue Alliance was unable to keep up with the pace of the Red Alliance. After the great efforts shown by both alliances, the Red Alliance came out to be the winner scoring 203 kPa compared to the 97 kPa scored by the Blue alliance. The Exhibition Match Video can be viewed here.
A Special Thanks
Chezy Champs was very special this year due to the efforts of so many people and organizations. Team 254 would like to thank our friends from RoboSports Network (RSN) for providing our audience with such a great analysis of each match and team at the tournament. We would also like to thank all the volunteers, who helped make Chezy Champs possible. It was truly an incredible experience to host an offseason tournament attended by so many talented teams, even those who chose to attend from out of state, and to make new friends and catch up with old ones too!
Robot Performance
Throughout the qualification matches, we encountered a few mechanical problems with our gear grabber, hopper, and drivetrain and a few problems with Misfire's autonomous performance. After some careful observation, we realized that our gear grabber's knife-edge was worn out, so we replaced it with a new piece of polycarb. Our stationary hopper panel kept colliding with the field hoppers, which tore our hopper wall. We replaced the broken hopper panel to solve this problem. We also noticed a crimp lodged between our chain and sprocket on our drivetrain, so we removed it to make our drivetrain function normally. Overtime, our autonomous performance improved after our mechanical changes. Thus, we were able to seed first for alliance selection after having a qualification match record of 7 wins and 3 losses.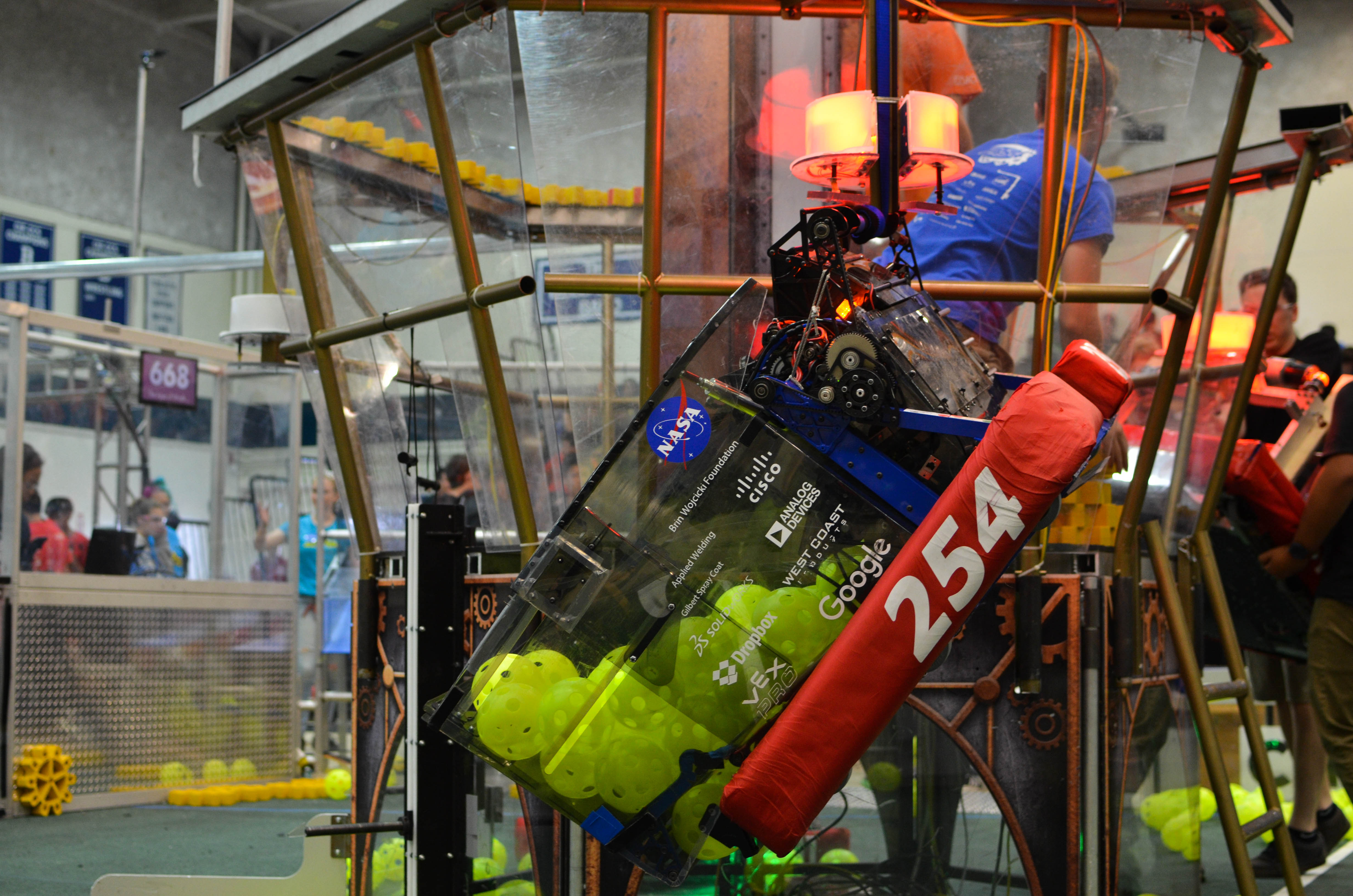 Misfire successfully hangs within the last few seconds of a Qualification Match
During elims, we faced some fierce competition during our Semifinal and Final Matches. We ended up having to compete in a third tiebreaker match in semifinals and finals. In Semifinals Match 2, the opposing alliance of Team 973 Greybots, Team 1538 The Holy Cows, Team 604 Quixilver, and Team 2135 Presentation Invasion, scored a large amount of kPa during auton and kept their lead up by activating all 4 rotors! In Finals Match 2, the opposing alliance of Team 1323 Madtown Robotics, Team 3309 Friarbots, Team 5026 Iron Panthers, and Team 2073 EagleForce, displayed their true skill, by keeping a consistent lead, from the start of the match. By the end of our elimination matches, we won all of our tie breaking matches, allowing us to win the event with our alliance. We wouldn't have been able to accomplish such a victory if it weren't for our amazing alliance partners – Team 1011 CRUSH, Team 696 Circuit Breakers, and Team 5104 BreakerBots.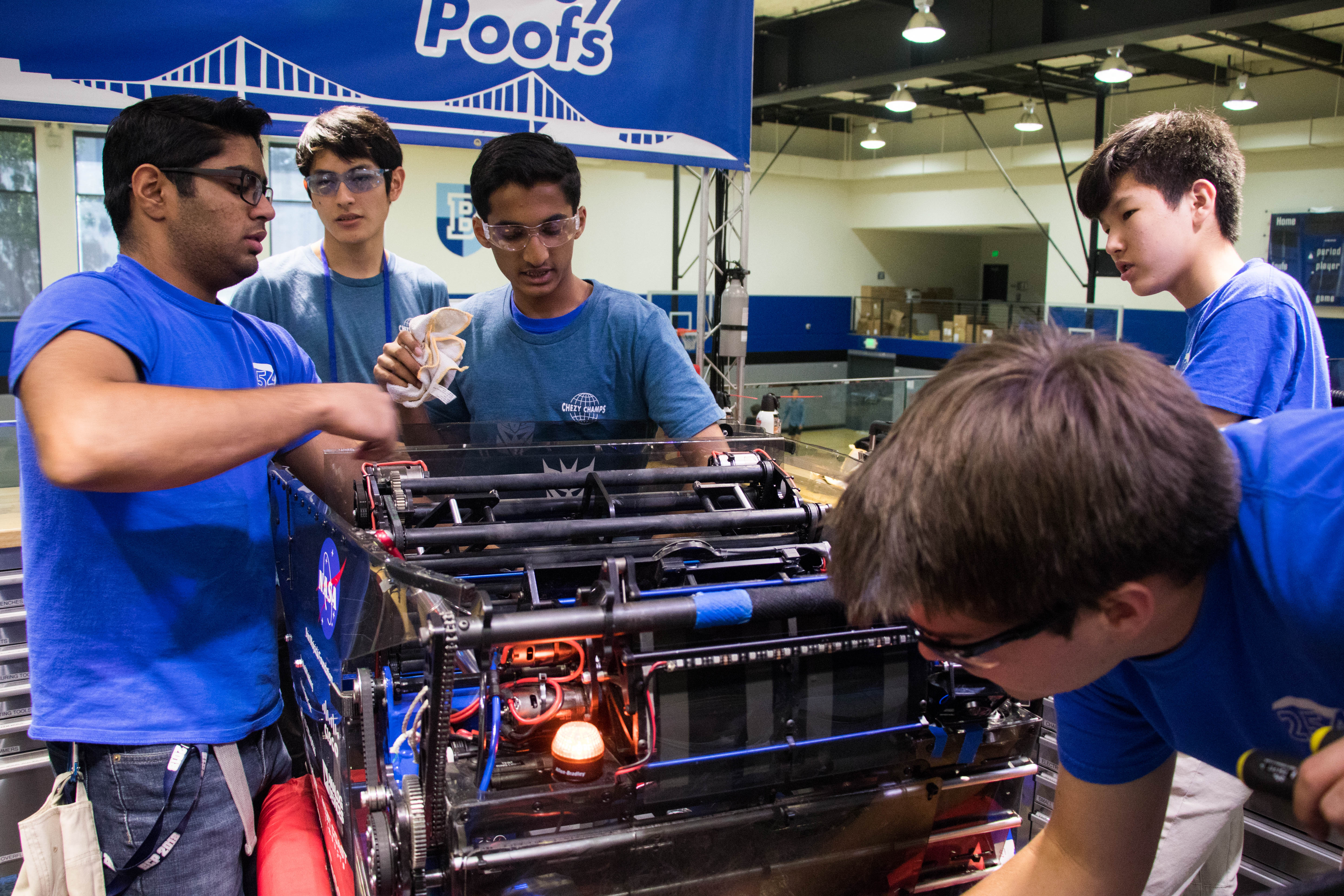 Members of the Team 254 Pit Crew repair Misfire before an upcoming Finals Match