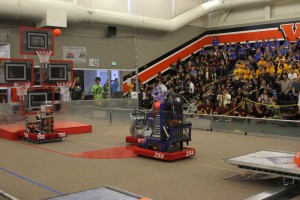 This past weekend Team 254 attended CalGames 2012 at Woodside High School, an off-season replay of the FRC game Rebound Rumble.
After 4 wins and 4 losses in qualification matches, 254 was the first alliance choice for the #1 seed, Team 971. Later joined by Team 766, the #1 alliance proceeded through the elimination matches, defeating the #8 alliance, #5 alliance, and the #2 alliance in 2 matches each. This marks the fourth year in a row that Team 254 has been a champion at CalGames.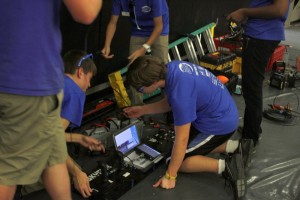 Thank you to all the team members, parents, mentors, and friends who represented Team 254 at CalGames! We could not have done it without the hard work of all our students, including all of the scouts, pit crew, drive team, and more. A special thanks to the volunteers and mentors who donated their time and energy to help Team 254 work smoothly throughout the competition. I hope all our members enjoyed their first taste of FRC this year, and are looking forward to a fantastic 2013 season!