This year we have had the unique privilege of working with some new and awesome mentors. Over the next few weeks, we will be giving them the opportunity to talk about how FIRST has affected them.
Name: Paul Ventimiglia
College/Major: Worcester Polytechnic Institute / Liberal Arts and Engineering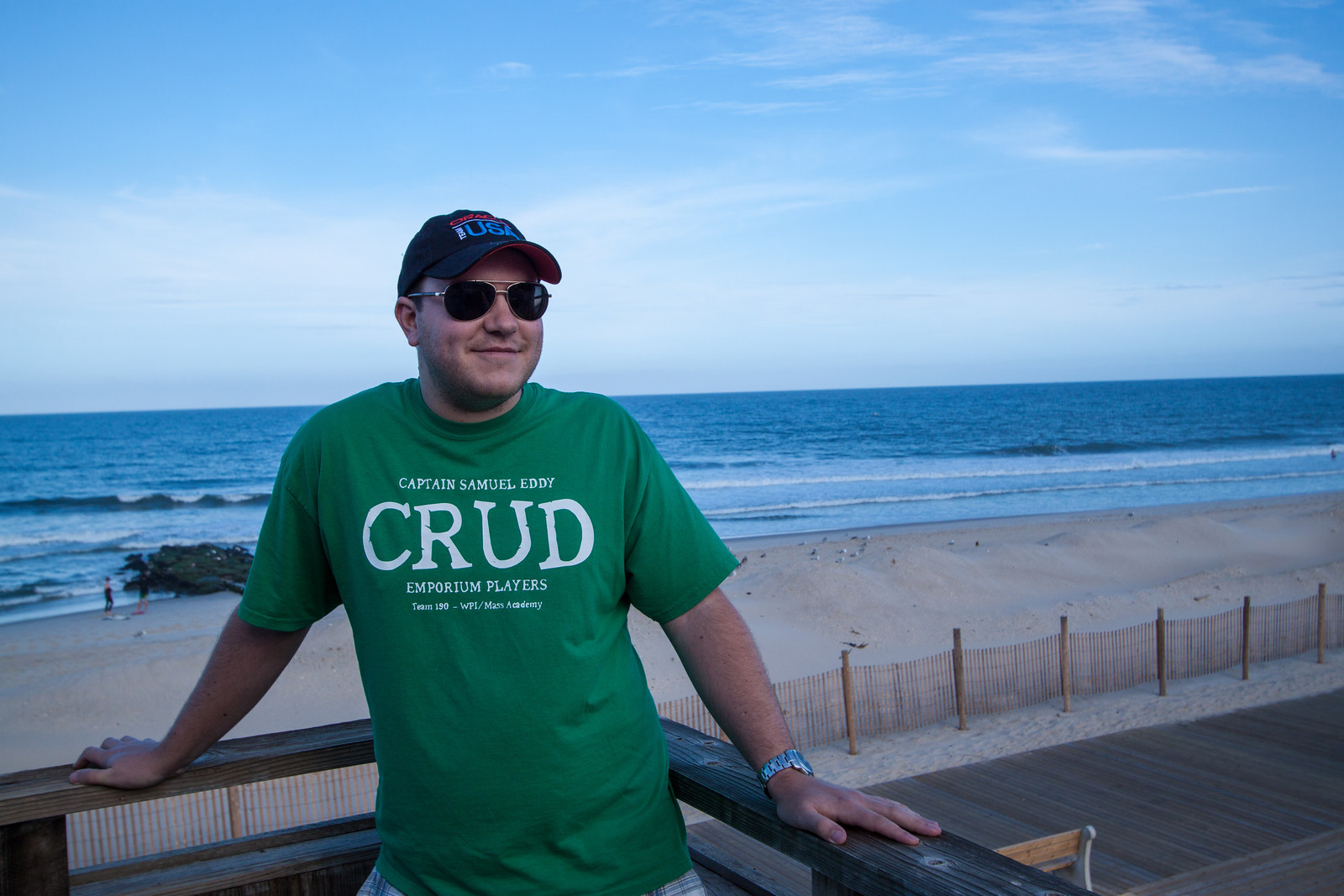 What is your occupation? How did you get into it?
I am currently not working anywhere. I am spending my time on side projects involving robotics design which I may turn into a business. Most recently, I was a Mechanical/Robotics Engineer at Double Robotics. I have been friends with the founders of the company for over a decade when we all were working on Battlebots. Since then, I have recruited my boss for side projects, and we kept in touch.
When did you get involved in FRC?
I got involved in FRC when I found out about it at WPI. FRC Team 190 was working out of the same lab I was building Battlebots in. I have been involved since kickoff 2006.
What was your favorite FRC game?
I enjoyed watching 2012 the most. It was very exciting watching the best robots scoring baskets quickly, and then always exciting at the end with the risky bridge balancing. 2011 was my favorite year for robot design and competing. We had a very solid and unique design which was very satisfying.
How did FRC interest you?
I love engineering, but I love engineering competitions even more. I am not really into any other sports \(besides sailing\), but I love the competitive nature of FIRST. It is not all about winning, but it is competitive to see who can come up with the best design quickly and easily. Mentoring students interested in robotics is really fun. I have a lot of experience building things quickly and reliably, and I am glad to share that with others.
How has FIRST affected you?
FIRST has a huge community, so it was an interesting place for me to learn from others and meet new people. I have many lifelong lasting friendships through FIRST. I have met business contacts and people which have led to amazing opportunities. FIRST has done a good job of focusing me, and giving me some structure, even if for only 6 weeks out of the year. It is something I look forward to and prioritize to make time for in my life. It has taught me so many engineering skills, new parts I have never seen, new methods, and refined my CAD skills. It also taught me a lot about working with teams of people and how to handle communication issues.
How many FRC teams have you worked with?
I have worked with 190, and a little with 1735, both out of Worcester, MA, before 254.
What area do you mentor in ?
I mentor in all things mechanical, design, overall geometry, parts sourcing, machining, etc.
Time Commitment:
During the build season, I am full on. Every day at the lab from about 5:30 until midnight weekdays, and 1 to midnight on weekends. During the season I took 4 days off. When I am not at the lab, I try to spend as little time working on anything FIRST related, although my mind is still thinking about solutions to problems. Also I spent a lot of time during the day physically bringing parts to and from our sponsors shops for welding or finishing.
How does your profession affect your approach?
As a robotics engineer, it is precisely what I do. Having a tough new challenge, brainstorming solutions, prototyping, designing, and manufacturing. All of course while maintaining a low project cost, and getting it done quickly. I approach FRC the same way I do any other engineering problem. I always look first at what others have done, do research, and ask a ton of questions. Then I try implementing a best estimate immediately and getting feedback for revisions.
Why did you decide to help with Team 254?
I have always admired the 254 creations. I have spent many hours looking over every picture I could find, and reading available information. It is one of the most professional teams, and I have always wanted to work with those mentors and students. I also think it is a very special privilege to be working out of a NASA facility with so much history and prestige.
What do you expect to see from students in FRC?
I expect a lot of hard work over time, and a lot of learning and improvement. When someone is not working hard, or quickly, I expect them to ask someone else how they can improve, or what they can be working on. I think all things can be solved by asking tons of questions and learning, so I always wish people would admit more often when they are unsure about something. I expect students to be here having fun, because they want to be here, and not feel forced.
Do you feel that FRC helps students prepare for future careers?
Yes, it helps dramatically. Some teams are run like small businesses, very professionally. They will learn about communication, deadlines, and real world project consequences. They will learn a ton about working with teams of people, and how they will not always get along with everyone. They also learn how to behave around industry professionals at events.
What do you do for fun?
I build bar tending robots, fighting robots, go sailing, go to the beach, and eat smoked BBQ.
What is your favorite FIRST memory?
Being on Einstein after winning champs in 2007 is right up there, also getting to play CRUD with my old team at the end of ship day each year.
What is your most valuable FIRST experience?
The most valuable experience was going to the Founder's Reception at Dean's house in 2006. That was my introduction to FIRST and where I met so many mentors. It got me hooked so quickly because I was fully immersed. From that I got to really meet my close friends from WPI which guided the rest of my education and career choices.