by Nathan Duong '16 and Josh Fluegemann '17
Pit Display
The programmers of the team worked on the pit display; they primarily sought to improve the quality of the display through cleaning up the HTML and CSS of the web application. Today, they added lightbox capabilities to the web box.
Pit Lights
In addition, notches were made in the pit lights tubing for soldering.
Chairman's Binder
Research is being done for the chairman's binder; members are compiling a list the alumni's colleges.
Intake
The intake is being put back together after individual parts were sent back from Waterloo. To do so, the plate, motor, and intake roller were reconnected with the skeleton of the intake.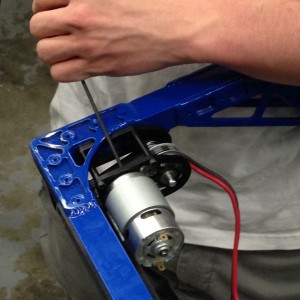 Action Items
Manufacture above parts and install on robot (all McMaster parts required have arrived) - Travis/ Colin
Finish shooter redesign (SDP and VEX parts are on order) - Paul
Prepare sponsor welcome packets for when sponsors come to SVR - Stephen
Work on pit-lights and finish assembly - Ken
Cut/install vinyl labels on hinged-lid totes (light blue, dark blue and black all need new vinyl) - Travis/Mani
Test LCD mounts - test installation on trussing - Travis/Ken
Finalize video banner - Ryan
Improve Pit Display and test with new monitors and projector - Ryan
Design projector mount for video banner - Travis
Finalize video banner mount - Travis
Fix/create hand sanitizer mount - Mani
Design/build new bumper hangers for truss - Travis/Mani
Improve technical binder - Andrew
Improve Chairman's binder - Jeremy/Andrew
Improve Chairman's video - Jeremy/ Kevin
Re-print all binders and sponsor packets with correct bleeds and page splits - Jeremy