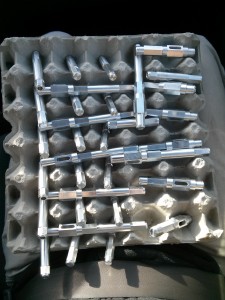 Today was a good day, as far as Mondays go. The parts for our drive gearbox were picked up from Modern Machine Company. The PTO Shafts, Output Shafts, Intermediate Shafts, and Wheel Shafts (small and medium) were returned. They turned out great! All that is needed to finish assembling the gearboxes are the parts from West Coast Products. Once those parts are received and the gearboxes are assembled, the drivebase will be driveable for the first time.
Cory and Pat worked on getting the new lathe working, which is running, but not currently useable as a main machine.
The season is going well and manufacturing is ahead of schedule. Design, on the other hand, is behind schedule. There will be a design freeze and a Order freeze on Friday. That means the design will be completed by the end of the week and all the known parts needed will be ordered by Friday.