A Brief Summary
As part of an eventful week, we attend the 2022 FIRST World Championship in Houston, Texas from April 20th to April 23rd. After qualification matches in the Galileo Division we accepted an invitation to play in the playoff rounds alongside the #1 seed Team 1619 Up-A-Creek Robotics, along with Team 3175 Knight Vision, and Team 6672 Fusion Corps. Our alliance was able to win the Galileo Division and advance to the Einstein field to face the other five division winners, where we ultimately won our fifth World Championship!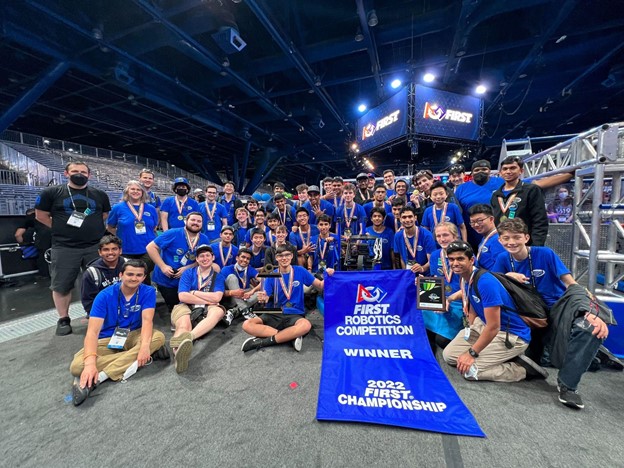 Team 254 poses for a picture after winning at the 2022 FIRST Championship
Robot Performance
Qualification Matches (Galileo Division)
Throughout our qualification matches, we wanted to make sure that we secured four ranking points during each match. In order to do this, we tried to win the match, shoot at least 20 balls in the upper hub, and have an alliance partner climb with us. Through the efforts of our drive team and pit crew, our robot performed admirably each match. We achieved a 8-1-1 record, and a ranking point average of 3.60, with a rank of 4th out of 76.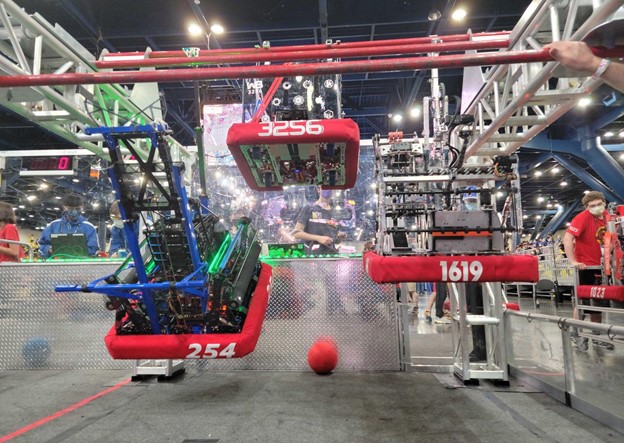 Sideways hangs with other alliance partners at the end of a qualification match
Alliance Selection
Going into the playoff tournament in the Galileo Division, Team 1619 Up-A-Creek Robotics, the #1 seed, invited us to their alliance, along with FRC Team 3175 Knight Vision and FRC Team 6672 Fusion Corps.
Playoff Matches (Galileo Division)
From a strategic perspective, our alliance wanted the ability for all three robots to contribute offensively and defensively. We also wanted to have a triple traversal climb, to give our alliance more strategic flexibility and higher points ceiling. We were very lucky to be with three amazing teams that complemented each other perfectly.
On the Einstein Field
Our alliance modified our strategy during the Einstein matches, with Team 6672 playing more of a defensive role against the opposing alliance. Each of our three robots also attempted to climb to the traversal rung during the endgame, knowing that the first tiebreaker after wins was average Hangar points. Our performance allowed us to move on to the finals, facing the Turing Division winners. In the finals, our alliance won the first match by a single point and then lost the second match. In the tiebreaker match, our alliance's strategists opted to swap out Team 6672 for Team 3175 to attempt a different defensive strategy that would allow us to control two opponent balls to help starve our opponents, and changed our offensive approach to try and avoid the very effective defense played by Team 4099 against us in the previous matches. Thanks to this new strategy and to our autonomous mode working better than previously, we were able to win the finals tiebreaker. We would like to shout out Team 1577 Steampunk, Team 4414 HighTide, Team 2539 Krypton Cougars, and Team 4099 The Falcons, for having an amazing alliance. Our alliance was very fortunate to emerge victorious after three incredibly tough and competitive matches.
A Special Thanks
At the 2022 FIRST World Championship in Houston, we would not have been able to be so successful without the amazing teams that we were able to work with during our matches. Also a special shout out to our pit crew and drive team for properly maintaining our robot during the tournament. We would also like to highlight the efforts of our alliance readiness crew to keep our alliance partners ready throughout the tournament. Team 254 would also like to thank all the volunteers and judges that made this tournament an exciting experience, and all of our mentors, teachers, and parents who supported us and helped us succeed.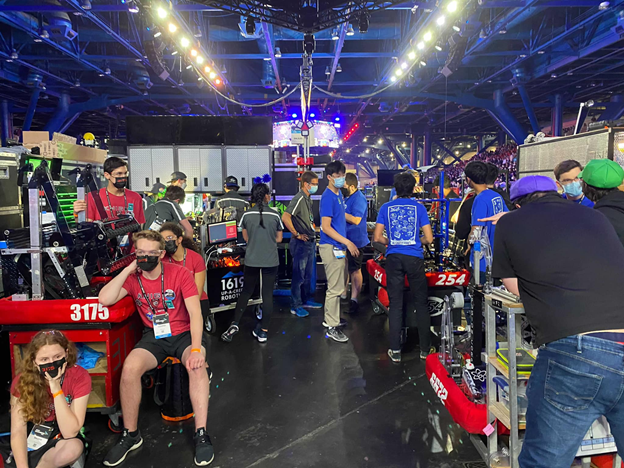 Members of the Team 254, 1619, 6672, and 3175 wait for their next match on the Einstein Field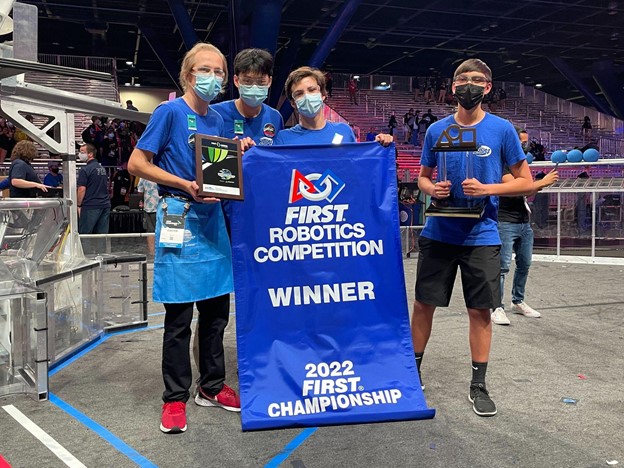 Our drive team poses for a picture on the Einstein Field after the last match