By Michael Simeon, Matthew Tran, Christian Bagamaspad, Stephen Pinkerton
Machining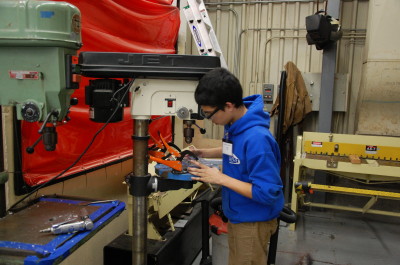 Today, members manufactured shooter shafts, standoffs, spacers for gearbox, and crosspieces for "seal." Additionally, they began detailing and manufacturing parts for the front and back intakes.
They also machined parts for the hood weldment assembly, which still need to get welded. Most of the other hood elements are still being designed.
The superstructure parts are done and ready to be welded. Part of the hood attachment still needs to be CNC'ed before sending items to the welder on Monday.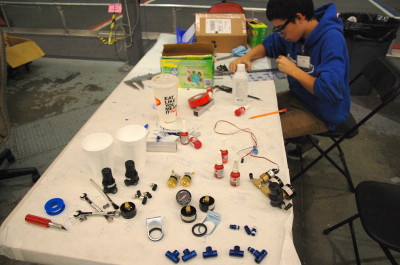 Gearboxes
Members also assembled gearboxes, replacing long standoffs with shorter ones. There were some issues after assembling them the first time where bearings didn't fit properly. These issues were mostly resolved after assembling them again, but more carefully. There may be more issues with spacers that we need to investigate tomorrow. All in all, only 2 of the 6 gearboxes have been assembled (the ones for the competition bot).
Wiring
We started wiring late into the night and are being careful to do it accurately. The goal is to have this done very soon so we can continue driving.
CAD
After successful testing the v-shaped popper, the team decided to go with the prototype, and are currently designing it in SolidWorks.
There was significant work done on the shooter and hood CAD. Members added more detail, as well as some shafts, spacers, and screws.
Programming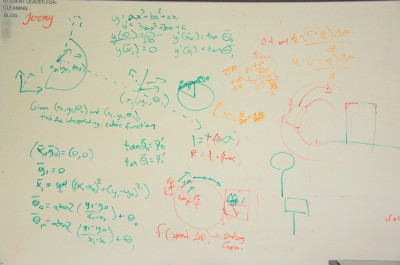 Today, the programmers worked extensively on cubic spline interpolation and trigonometric calculations. The purpose is to be able to turn smoothly and accurately. They implemented the calculations in a new Java project called TrajectoryLib, complete with unit testing. By the end of the day, they ironed out most of the bugs, and have not yet tested the code on the robot.
Moving forward, they're looking to create a live position-tracking page for the robot.
Graphic Design
Today, some students made progress on the official team shirt for this season by trying a new design based on the Aerial Assist logo. They also incorporated the logos of our current sponsors.
Game Elements
The team assembled a homemade truss (instead of purchasing the official game element or buying actual trussing, which would take more than a week to ship). Unfortunately, it is not completely sturdy and bows in the middle. It has not been hung up across the field yet.
Action Items
Check Trello!Wiring drivebases
Continue designing hood
Debug and test turning code