Driver Practice: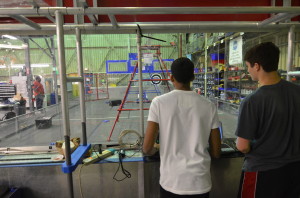 Drivers and operators continued practice today in preparation for the upcoming San Diego Regional. To hone their skills they ran a multitude of drills with a wide variety of obstacles to simulate a field filled with other robots. In these drills the drive team is fed 1 frisbee at the near side of the field, they then move as fast as they can to the opposite side without hitting any obstacles and shoot alternating between near and far pyramid shooting positions. If they fail to do this or hit any obstacles, there is a penalty of 5 pushups per violation, enforced by Mr. EJ.
Robot Intake and Maintance: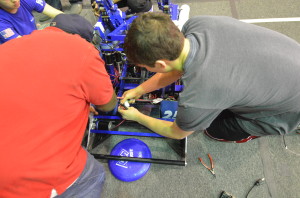 The side plates for the new intake design were completed today. Students worked with mentors to install the new plates as well as modify parts of the old intake to work with the new design. While it was not a very smooth action the new intake works much better, showing no obvious signs of jamming when intaking at slow speeds. As well as funneling better, the new intake also weighs 3-4 pounds less than the previous design. Students also removed unused pistons and sensors from the indexing system to shed weight.
Bill of Materials:
Students continued the documentation process by separating the robot into subsystems and accounting for each part on the bill of materials. With the constant iterating of the robot, they will have to keep the list updated every day. Currently, they have almost fully completed documenting 5/6  subsystems, consisting of the intake, conveyor, shooter, hanger, and bumper. The drivebase is still a work in progress.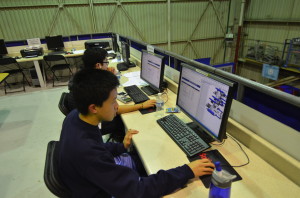 Programming:
The programmers debugged code for the robot's drive.  Other than this, they added support of the control loops switch on the control board to how the indexer command operates.  Also, the programmers rewrote the logic for the stage 1 hanger solenoids.
Pit Lights
Other programmers worked on the pit display and colorful pit lights. These lights will be installed in the trussing in the pits to add a glow effect to the piping. They took last year's match schedule script and modified it to remove the Coopertition points column, as well as to create a configuration form so that other teams can utilize the system. They also worked on the web application that will send led script files to the C# application that controls the lights. It will be done soon.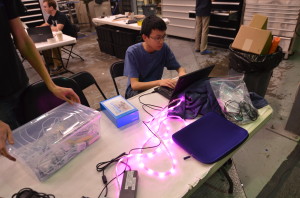 General Competition Preparation:
Students finished wiring the new 2013 batteries tonight and are currently in the process of testing them. Using a battery analyzer each battery is tested to see the quality individually before competition.