After the whole team kickoff-unveiling event at BCP, students came to the NASA lab at 1:00pm to begin discussing game strategy, going over the new game rules in detail, and began numerous design, prototyping and field assembly tasks throughout the course of the day. Prototyping A couple of groups were created which began making prototypes to test the fundamental concepts of shooting Frisbee discs. A few objective requirements that are being looked at in these designs include:
Accuracy
Precision
Size/Volume occupied
Power requirements
Design integration ease
Feeding/indexing/loading ease
Need for adjustability
Three different designs are currently being prototyped:
Radius Design
Radial Design
The radial design uses a fixed wheel spinning on an axle surrounded by a circular track for a frisbee. By doing this there it simultaneously adds speed to the frisbee using the rotating wheel and spin using the far wall of the track that is padded with self-insulating electrical tape for increased grip.
We used many different iterations of motors starting with Dewalt drills, but opted for more power using pneumatic drills running off shop air spinning the wheel at 5250 RPM.
Using the higher RPM we were able to semi-accurately shoot from 10ft away from the high goal.
A working prototype was created and tested today as shown in the video above
Linear Design
This design is an iteration of the Radius design, but packaged more tightly to accelerate the Frisbee disc linearly, instead of around a radiused backboard
The idea was created as a derivative of the Radius design, coming from the need for a compact shooting mechanism. Utilizing the same idea of a static surface combined with a spinning propellant, we designed a system that uses a direct mounted CIM motor to power a timing belt pulley system to increase speed of the frisbee in a single linear movement.
CAD models of this design were completed and fabrication was started today
Thrower Arm Design
This design is most similar to a clay pigeon device
The main mechanism of this design is a flinging arm that propels the frisbee as it travels from the center of the device towards the outer most edge
Fabrication of this design was started and photos will be added when a preliminary model is created
Design Preliminary design decisions were briefly discussed regarding drivetrain configuration, wheel size, and speeds/ratios.  Final drivetrain decisions and preliminary designs for some drive components will be decided and completed at tomorrow's meeting.  Gearbox and wheel shaft models and drawings are scheduled to be completed by Sunday night, to deliver for manufacturing at our sponsor on Monday morning. Preliminary discussion outcomes:
6WD with 3.5″ Wheels
2-speed WCD (West Coast Drive)
~2011 speeds (with the capability to swap in a smaller pinion to go slower)
Flat base plate
2011 style bumper mounts
Field Construction Students began working on building and assembling the high goal and the pyramid field objects.  The High Goal stand was completed and mounted onto the game field. The assembly of the pyramid is underway, with its top goal almost complete; all components are made, but still need to be assembled together.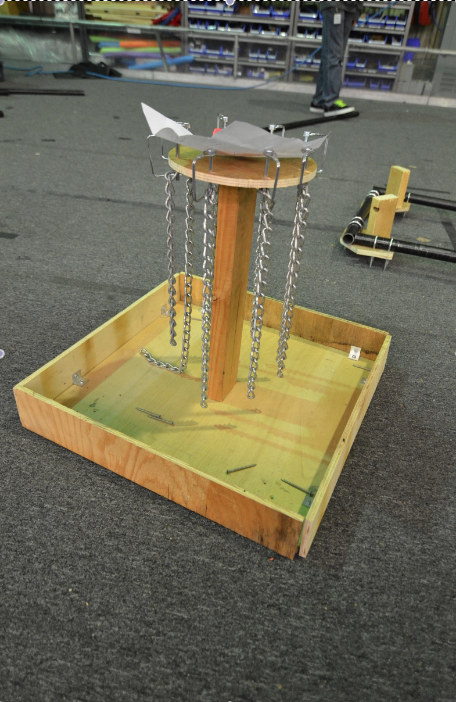 Manufacturing Final machine set-up and warm-up procedures were completed today which should allow us to start machining competiton parts tomorrow. Action Items for Tomorrow
Acquire missing pyramid parts, assemble pyramid base and goal, assemble pyramid.
Complete linear Frisbee shooter prototype & test
Begin intake design and prototyping discussions
Start and complete drivetrain gearbox designs and shaft drawings
Discuss merits and perform objective analysis/ranking on hanging mechanisms & feasibility
 Lab closing time for the night was at  12:30am