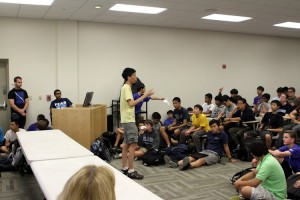 Already seven weeks into the start of the new school year, we have had many events, including workshops and team meetings, to kick off the new robotics season.
Our first mandatory meeting for the team was at the Introduction meeting, where all incoming freshmen, new members, and existing members were formally introduced to the leaders of Team 254 and students became familiar with the expectations for this new season. There was an outstanding attendance as over 130 interested participants registered for the team afterwards. We also held a parent meeting where we presented new information to parents and answered questions.
In the following week, we officially began the VEX season with our VEX Kickoff, where we introduced this year's new game "Sack Attack" for those who have not seen it yet or were interested in participating in VEX this year. Jonathan Chang led the meeting and explained the design process each team must follow, along with safety regulations for Bellarmine's new lab. New VEX teams were released and captains then led each sub-team to discuss game strategy and begin their brainstorming process.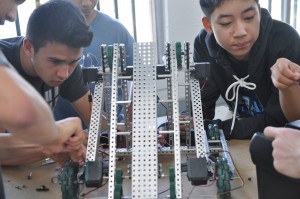 Finally past the busy start of a new season, we smoothly transitioned into the Zero Robotics Kickoff led by Richard Lin, different workshops including Graphic design led by Kyle Schnoor and PR/Marketing led by Avery Strand, and VEX builds. Each VEX team presented their team's robot design to the mentors, who gave their critique to each team, and teams now in the process of building each robot according to their CAD drawings. We have just begun registering teams for VEX tournaments, the first one already starting in October at San Ramon.
The mentors, leaders, and sub-captains are all looking forward to another great VEX season this year to follow up with last year's excellent performance at the World Championships. As a reminder, you should still check the calendar often for meetings and lookout for upcoming workshops that interest you.