There are two upcoming meetings introducing 254 robotics to potential recruits on the following days:
Wednesday August 22nd
Thursday August 23rd
At these meetings we will showcase our 2011-2012 basketball shooting robot Skyfire as well as give important information about the team.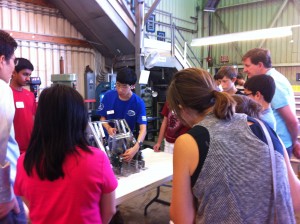 This week we went to Diversity Day, and had an open lab for freshman to attend. Both were huge successes. At diversity day, we had approximately 100 people stop by to see the robot, as well as many who got to play with it. At the open lab, we had about 60 people attend, 24 of which were incoming freshman. We set up five stations for them to attend, all lead by our leadership team and senior team members. We had Machining with Mani, Louis, and Cory, Driving with Aaron and Abhi, Building with Nick (Eyre) and Kyle, VEX with Jonathan Chang, and Programming with Richard. Everything went smoothly and we're looking forward to the oncoming year.